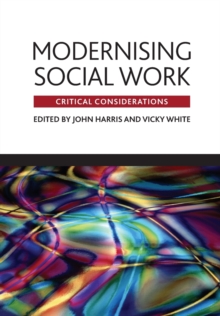 Modernising social work : Critical considerations
Paperback / softback
Description
New Labour's modernisation agenda has produced an avalanche of change that has posed formidable challenges for everyone involved in social work, whether as service users, practitioners or managers. "Modernising Social Work" provides a radical appraisal of the far-reaching changes in their theoretical, historical and policy contexts.
The book is organised into three sections that consider: the inter-relationship of modernisation and managerialism, modernisation's impact on service users and the ways in which social workers and front-line managers seek to exercise professional discretion for the benefit of service users within a workplace culture of intensified scrutiny and control.
Analysis of a range of key developments in all three areas reveals the modernisation agenda as complex and contested.
The book's three sections cover the main issues of the modernisation agenda, making it ideal for teaching.
Locating the issues in their theoretical, historical and policy contexts meets the needs of student readers and experienced social workers will appreciate the emphasis on empirical research as well as practice experience.
Information
Format: Paperback / softback
Pages: 216 pages, No
Publisher: Policy Press
Publication Date: 25/03/2009
Category: Social work
ISBN: 9781847420053