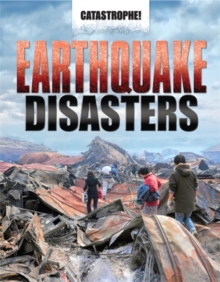 Catastrophe: Earthquake Disasters
Paperback
Description
Earthquakes are one of the most destructive natural forces we are likely to experience on Earth.
They can devastate entire cities and kill thousands of people.
They can also trigger (and be triggered by) other natural disasters such as volcanic eruptions and tsunamis.Earthquake Disasters first explores the science behind these powerful events - with an overview of tectonics and the continental plates moving, types of fault lines and how scientists (seismologists) study and predict the occurrence of earthquakes all over the world.
Some famous earthquakes are then explored in detail, explaining how, why and when some of the world's biggest and most famous quakes occurred.
From the Fukushima disaster in 2011 and the Haiti earthquake in 2010, to the 1906 San Francisco earthquake and as far back as the quake that devastated Antioch in Turkey in CE 526, the power and devastation of these fascinating natural disasters will make for compelling reading.Part of a series of 6 books, Catastrophe! uses historical reports, eyewitness accounts and expert opinions to explore incredible natural and man-made disasters.Suitable for KS2-3 these are excellent reference books for teachers and students.
Information
Format: Paperback
Pages: 48 pages
Publisher: Hachette Children's Group
Publication Date: 24/04/2014
ISBN: 9781445131283
Free Home Delivery
on all orders
Pick up orders
from local bookshops