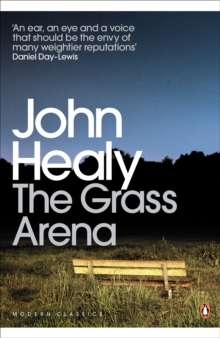 The Grass Arena : An Autobiography
Paperback
Description
John Healy's The Grass Arena describes with unflinching honesty his experiences of addiction, his escape through learning to play chess in prison, and his ongoing search for peace of mind.
This Penguin Classics edition includes an afterword by Colin MacCabe.In his searing autobiography Healy describes his fifteen years living rough in London without state aid, when begging carried an automatic three-year prison sentence and vagrant alcoholics prowled the parks and streets in search of drink or prey.
When not united in their common aim of acquiring alcohol, winos sometimes murdered one another over prostitutes or a bottle, or the begging of money.
Few modern writers have managed to match Healy's power to refine from the brutal destructive condition of the chronic alcoholic a story so compelling it is beyond comparison.John Healy (b. 1943) was born into an impoverished, Irish immigrant family, in the slums of Kentish Town, North London.
Out of school by 14, pressed into the army and intermittently in prison, Healy became an alcoholic early on in life.
Despite these obstacles Healy achieved remarkable, indeed phenomenal expertise in both writing and chess, as outlined in the autobiographical The Grass Arena.
If you enjoyed The Grass Arena, you might like Last Exit to Brooklyn, also available in Penguin Modern Classics.'Sober and precise, grotesque, violent, sad, charming and hilarious all at once'Literary Review'Beside it, a book like Orwell's Down and Out in Paris and London seems a rather inaccurate tourist guide'Colin MacCabe
Information
Format: Paperback
Pages: 288 pages
Publisher: Penguin Books Ltd
Publication Date: 29/07/2008
Category: Autobiography: general
ISBN: 9780141189598
Free Home Delivery
on all orders
Pick up orders
from local bookshops
Reviews
Showing 1 - 2 of 2 reviews.
Review by edwinbcn
16/06/2015
Penguin Books uses a rather flaky definition of what makes a book a "Classic," so, while generally speaking I would classify Penguin Books as a very reliable publisher, and would buy their books "unseen", following their good judgment, I must say that, especially in recent years, I feel some books in the series of "Modern Classics" were misfits, and it seems commercial rather than literary motives lead to the re-publication of books in this series. The grass arena originally published in 1988 (!), (doesn't that feel like yesterday?), fits that category.It is the autobiography of John Healy, and describes a part of his life, particularly the time he lived on "the street in London," which is what the title refers to. While the author of the Afterword correctly identifies such people, as he writes that few who live and work in Central London (..) have not encountered the inhabitants of The grass arena it is hard to imagine that he is truthful when he writes that had never considered, nor imagined the texture of their lives (…) the round of begging, drinking, sleeping, fighting.An important omission, which leaves the reader wondering, is the time, when this life story took place. It is only through reconstruction, as the paper clipping from the Evening Standard is dated 5 April 1975 (included on page 250). That means that Healy's ordeal should be situated as taking place during the 1960s and early 70s. That is a bit of relief, although the apparent lack of temporality makes that it can be imagined to be situated in the 1980s, as it would well fit Thatcherite Britain, or even today, as the effects of Neo-Liberalism financial policy gradually erodes the welfare state.The story is not beautiful, and neither is the language used, so be ready for some stiff vernacular. Much of it reads like the autobiography of a modern-day Dickensian character, one of the lowlier ones, in his own words. The account is by all means shocking, the type of horror story that parents hold up to their children when they warn them that if they do not do their homework, they will slip and fall to the lowest strata of society; or actually, probably still worse.It is the prerogative of the editor / writer of the afterword, to highlight and emphasis the literary qualities of the book, but it seems unfair to downplay its value as a sociological document. Alcohol and addiction are pointed out, while abject poverty is never mentioned as a possible cause for such terrible life circumstances. It is therefore best to let the book speak for itself.
Review by streetwa
16/06/2015
A harrowing recollection of life as a homeless alcoholic on the streets of London. The monotonous routine of begging, fighting, arguing, drinking cheap wine in a park and doing time is not always captivating but gives an insight into a world most (fortunately) will never know. Eventual recovery (not a spoiler as clearly he must be off the booze to write an autobiography!) is a welcome relief but surprising. Recommended.
Also in the Penguin Modern Classics series | View all