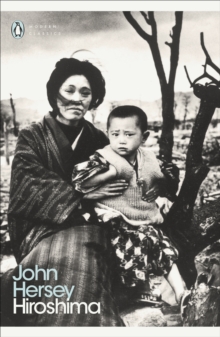 Description
When the first atomic bomb was dropped on Hiroshima in August 1945, killing 100,000 men, women and children, a new era in human history opened.
Written only a year after the disaster, John Hersey brought the event vividly alive with this heartrending account of six men and women who survived despite all the odds.
A further chapter was added when, forty years later, he returned to Hiroshima to discover how the same six people had struggled to cope with catastrophe and with often crippling disease.
The result is a devastating picture of the long-term effects of one bomb.
Information
Format: Paperback
Pages: 208 pages
Publisher: Penguin Books Ltd
Publication Date: 01/02/2002
Category: General & world history
ISBN: 9780141184371
Free Home Delivery
on all orders
Pick up orders
from local bookshops
Reviews
Showing 1 - 2 of 2 reviews.
Review by eleanor_eader
16/06/2015
Hiroshima follows the movements and reactions of six survivors of the world's first nuclear attack on the fateful morning of August 6th, 1945, and how they coped in its aftermath. Told in a straightforward, unsentimental manner that is absolutely devastating to the reader, one of the most destructive acts of war ever perpetrated is laid out piece by piece from the point of view of ordinary people. Hershey explains their terror and confusion – nothing like this had ever been seen before - and odd sense of admiration at the American ingenuity; their culturally appropriate politeness and collective, sometimes silent suffering. Amidst the deaths and the fire, the radiation burns, the overwhelming flood of injured into hospitals with few remaining staff, the sickness and even the impact of the landscape changing utterly in a single instant, even a regular reader on war history feels chilled and horrified and reminded of the sheer unconscionable power of nuclear warfare.It's the focus on ordinary people, who awoke that morning expecting to go about ordinary things, that makes Hiroshima so … harrowing. It's an overused word, I know, but absolutely appropriate. The surviving victims were overwhelmed, most lost everything including family members, they became sick, they struggled with debilitating after-effects and illnesses to regain a foothold on life, to find work or lost loved ones, and to come to terms mentally with what had happened to them. The long-term effects were only slowly calculated, most people fixating on the number 100,000 – those killed outright or quickly thereafter.I can't say that I enjoyed this book. It makes the reader watch the sky and imagine what sudden death from above would be like (in a way that tales of the blitz or other bombing runs simply do not), to consider hard points of morality, whether retaliation with such a weapon – or an even larger one – would be a reasonable response, even to a first strike; defending other people's countries can seem as important as the defence of one's own. That makes it an important, powerful book, but there are some periods in history that will never make 'enjoyable' reading, and this is one of them. I would recommend it to anyone who finds they gain insight from war history that is put into civilian context, or who are curious enough to want to understand what it was like for survivors and non-instant victims of the first ever nuclear attack.
Review by Veeralpadhiar
16/06/2015
Some acts are unjustifiable no matter how hard the perpetrators try to rationalize them. Bombing of Hiroshima and Nagasaki are undeniably among those. I firmly believe that the War Crimes Trials after World War-II should have been conducted even on some men of the Allied powers. <br/><br/>If it's any consolation (although it's not), the horrible aftereffects and the monstrous destructive power of nuclear weapons that the whole world came to realize after Hiroshima and Nagasaki might have kept a leash on the two world powers – USA and USSR – from using it during the Cold War on each other. Whatever other puny reasons the wartime experts might have had at that time for using the atomic bombs on Japan, one major fact remains to be pondered upon more deeply for the sake of our consciousness on being humans that the Japanese were used as lab rats to test the new weapons of mass destruction.<br/>