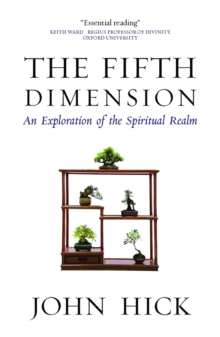 The Fifth Dimension : An Exploration of the Spiritual Realm
Paperback / softback
Description
Many of us today are all too willing to accept a humanist and scientific account of the universe which considers human existence as a fleeting accident.
The triumph of John Hick's gripping work is his exposure of the radical insufficiency of this view.
Drawing on mystical and religious traditionsancient and modern, and spiritual thinkers as diverse as Julian of Norwich and Mahatma Ghandi, he has produced a tightly argued and thoroughly readable case for a bigger, more complete, picture of reality in which a fifth, spiritual dimension, plays a central role. `Essential reading for anyone concerned with spirituality in the modern world'Professor Keith Ward, University of OxfordErudite, provocative and deeply moving, Hick's persuasive narrative will prompt all curious readers to re-examine their own spiritual horizons.`This stimulating book opens up many fundamental issues that must concern everyone.
It deserves to be widely read. `Expository Times`Learned, lucid and engaging, easy to read and easy to applaud for its sheer clarity of style and its breadth of interest, even when one disagrees with it!'Anvil
Free Home Delivery
on all orders
Pick up orders
from local bookshops