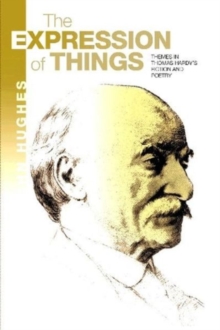 Expression of Things : Themes in Thomas Hardys Fiction & Poetry
Hardback
Description
John Hughes explores Hardys claim that his art sought to intensify the expression of things through three main sections on music, the body, and voice.
These offer intersecting and mutually informing discussions of the central drama of inexpression and expressivity in Hardys work, as it affects the various personae of the text, including the reader.
Throughout, the book draws on themes in the work of Gilles Deleuze and Stanley Cavell to reveal how Hardys fiction and poetry express and represent the affective and physical conditions of mind, and their conflicts with social fictions of identity.
The first main section on music incorporates three chapters that examine how Hardys writing stages musical experience as an expression of human desire and individuality at odds with the constraints of rationality, Victorian fiction form, and social convention.
Intricate and extensive readings are linked also to larger contextual and theoretical issues in order to show how music as a theme and motif highlights the kinds of creativity and ethical cruxes that characterise Hardys work throughout his career.
The second section -- on embodiment and sensation shows how close attention to Hardys writing on the topics of facial and bodily expression (and affectivity) reveal much about the sources of his inspiration, and its philosophical conditions and implications.
The third section on voice offers three chapters, each of which centrally employs a close metrical reading of an important Hardy poem within its larger biographical and inter-textual contexts.
These readings demonstrate how fundamental were Hardys innovations in meter to the power and originality of his work, and to its expressive treatment of his abiding preoccupations with love, grief, childhood, and the loss of faith.
Free Home Delivery
on all orders
Pick up orders
from local bookshops