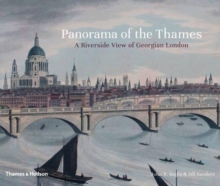 Panorama of the Thames : A Riverside View of Georgian London
Hardback
Description
This historical gift book is a reincarnation of a guide to the river Thames first published 1829 by Samuel Leigh.
The original was a concertina of 45 printed and hand-coloured sheets, glued together to form a magnificent 60ft depiction of the river's north and south banks - or Middlesex and Surrey banks, as they were then - from Westminster Bridge to Petersham Meadows in Richmond.
Among the buildings that stood along this 30-mile stretch of river in those days were many that no longer exist - including the Houses of Parliament before they burned down in 1834, or the factory owned by the father of Isambard Kingdom Brunel - but others still stand today.
A great deal of the original panorama shows just trees and foliage, so for this book it has been edited down to feature the most interesting sections.
These are grouped into 19 `villages', each with a short 200-word introduction.
The buildings are captioned (in the present tense, for vivid appeal), and there is an A-Z detailing landmarks and key buildings in each section.
Written in collaboration with local experts and various local history societies, these descriptions are richly informative and include information on the waterway, the landscape, and the people who lived and worked on the banks of the river at the end of the Georgian era.
Information
Format: Hardback
Pages: 256 pages, Illustrated in colour throughout
Publisher: Thames & Hudson Ltd
Publication Date: 19/10/2015
Category: Local history
ISBN: 9780500518151