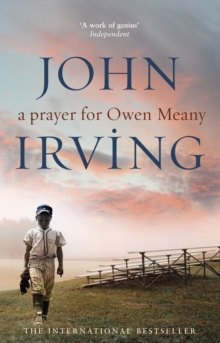 A Prayer for Owen Meany
Paperback
Description
'If you care about something you have to protect it.
If you're lucky enough to find a way of life you love, you have to find the courage to live it'.
Eleven-year-old Owen Meany, playing in a Little League baseball game in Gravesend, New Hampshire, hits a foul ball and kills his best friend's mother.
Owen doesn't believe in accidents; he believes he is God's instrument.
What happens to Owen after that 1953 foul ball is both extraordinary and terrifying.
Information
Format: Paperback
Pages: 640 pages
Publisher: Transworld Publishers Ltd
Publication Date: 01/05/1990
ISBN: 9780552993692
Free Home Delivery
on all orders
Pick up orders
from local bookshops
Reviews
Showing 1 - 3 of 3 reviews.
Review by dylanwolf
16/06/2015
I really dislike this book. I managed to keep reading it assuming that Irvine had got some truly redemptive fate for the eponymous fatuous prig, Owen Meany. But no, astonishingly, in a laughable, ridiculous climax he delivers... well; I don't want to put in a spoiler but for pity's sake, that makes Little House on the Prairie seem like cutting edge drama. The Christian allegory is plastered on in such thick pious dollops I was suprised we were spared resurrection and ascension. There's lots of American literature that I love, but surely this just encapsulates what us Brits find jaw-droppingly gauche in middle-american, god-fearin', relentlessly earnest, self-righteous, megalomaniac, xenophobic and faultlessly un-ironic culture. Goodbye, Irving; welcome Auster, Roth, Mailer, Delillo, Morrison, Pynchon et al. For something unpretentious, American, quirky, humourous and worthwhile try A Confederacy of Dunces by John Kennedy Toole.
Review by chrissybob
16/06/2015
I bought this book about ten years ago - but couldn't get into it. Decided to try again as part of the 1001 challenge - I am really glad that I did. This book is as close to perfect as you are ever likley to get - it is smart and intelligent while also being entertaining, hilariously funny and, at points, very moving. I read it over the last week and have laughed, cried, been frustrated and questioned my own beliefs all in equal measures - what more could you ask from a bookIt is worth reading for the nativity play rehearsal if nothing else - I was in stitches!
Review by martensgirl
16/06/2015
I really enjoyed this book, my first Irving novel. The characters are well crafted and there are two mysteries: Meany's fate and Wheelwright's paternity. The story is full of hilarious passages and Irving's prose is wonderful. I only give it 4 stars though as I did not enjoy the religious, spiritual overtones of the second half of the book.