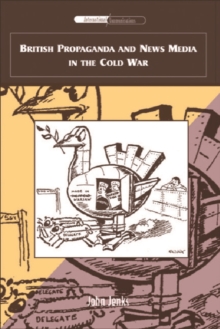 British Propaganda and News Media in the Cold War
Hardback
Description
This is a study of the British state's generation, suppression and manipulation of news to further foreign policy goals during the early Cold War.
Bribing editors, blackballing "unreliable" journalists, creating instant media experts through provision of carefully edited "inside information", and exploiting the global media system to plant propaganda -- disguised as news -- around the world: these were all methods used by the British to try to convince the international public of Soviet deceit and criminality and thus gain support for anti-Soviet policies at home and abroad.
Britain's shaky international position heightened the importance of propaganda.
The Soviets and Americans were investing heavily in propaganda to win the "hearts and minds" of the world and substitute for increasingly unthinkable nuclear war.
The British exploited and enhanced their media power and propaganda expertise to keep up with the superpowers and preserve their own global influence at a time when British economic, political and military power was sharply declining. This activity directly influenced domestic media relations, as officials used British media to launder foreign-bound propaganda and to create the desired images of British "public opinion" for foreign audiences.
By the early 1950s censorship waned but covert propaganda had become addictive.
The endless tension of the Cold War normalized what had previously been abnormal state involvement in the media, and led it to use similar tools against Egyptian nationalists, Irish republicans and British leftists.
Much more recently, official manipulation of news about Iraq indicates that a behind-the-scenes examination of state propaganda's earlier days is highly relevant.
John Jenks draws heavily on recently declassified archival material for this book, especially files of the Foreign Office's anti-Communist Information Research Department (IRD) propaganda agency, and the papers of key media organisations, journalists, politicians and officials.
Readers will therefore gain a greater understanding of the depth of the state's power with the media at a time when concerns about propaganda and media manipulation are once again at the fore.
Information
Format:Hardback
Pages:176 pages
Publisher:Edinburgh University Press
Publication Date:01/12/2006
Category:
ISBN:9780748623143
Also in the International Communications series | View all