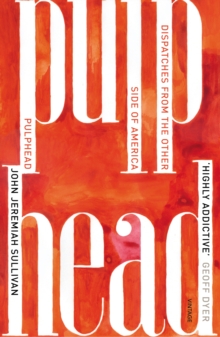 Description
John Jeremiah Sullivan takes us on a funhouse hall-of-mirrors ride through the other side of America - to the Ozarks for a Christian rock festival; to Florida to meet the straggling refugees of MTV's "Real World"; to Indiana to investigate the formative years of Michael Jackson and Axl Rose and then to the Gulf Coast in the wake of Katrina - and back again as its residents confront the BP oil spill.
Simultaneously channeling the gonzo energy of Hunter S.
Thompson and the wit and insight of Joan Didion, Sullivan - with a laidback, erudite Southern charm that's all his own) shows us how America really (no, really) lives now.
Information
Format: Paperback
Pages: 416 pages
Publisher: Vintage Publishing
Publication Date: 01/08/2012
Category: Literary essays
ISBN: 9780099572350
Free Home Delivery
on all orders
Pick up orders
from local bookshops
Reviews
Showing 1 - 2 of 2 reviews.
Review by roblong
16/06/2015
A collection of journalistic essays on subjects ranging across Christian rock festivals, Native American cave paintings, Michael Jackson, Walt Disney World, and the day author's brother nearly died after being electrocuted by a microphone, to pick a few. Smart, funny, insightful, basically exactly what you'd want from this sort of book. Really good.
Review by DRFP
16/06/2015
When a book is called, <i>"The best, and most important, collection of magazine writing since David Foster Wallace's</i> A Supposedly Fun Thing I'll Never Do Again," you're bound to have high expectations and that line leaves John Jeremiah Sullivan with a lot to live up to. With his self-aware, self-deprecating style one can see why a reviewer might make comparisons to Wallace but, quite understandably, Sullivan doesn't reach the aforementioned lofty heights of <i>A Supposedly Fun Thing</i>.There are certainly some good pieces in here - generally the ones related to music (<i>Michael, The Final Comeback of Axl Rose,</i> and <i>The Last Wailer</i>). Sullivan demonstrates a deep interest and passion for his subjects in these articles and the pieces are very engaging as a result. Unfortunately, in other places his writing is lacking. Some articles are just aimless. <i>Upon This Rock</i> starts off very funny but it's a tale of a Christian rock festival that goes nowhere. Likewise, the book's final article, <i>Hey, Mickey!</i> is partly about family trips to Disneyland, partly about Disneyland's shady founding and the dark deals that lead to its establishment, and partly about trying to smoke marijuana in said theme park undetected. Individually these fragments are interesting but they never coalesce into a meaningful or entertaining whole. <i>Violence of the Lambs</i> certainly had a point, but despite the author's protestations that this wasn't just some tin-foil hat crazy theory there seemed too many unanswered questions in the article for me to take it that seriously. Certain other articles covered subject matter that I simply wasn't interested in and about which the author's writing (for all its Southern charm) couldn't seduce me.Thus is merely a middling collection as far as I'm concerned. Sullivan has a nice writing voice but the pieces here are far too uneven. Some are good, some are boring, and most are somewhere in between. Wallace's own non-fiction wasn't a constant string of hits either but Sullivan has some way to go before he even gets near the classic pieces that Wallace wrote.
Also by John Jeremiah Sullivan