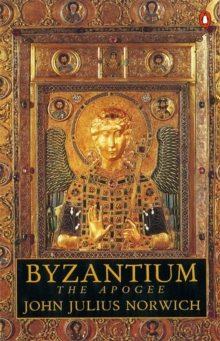 Byzantium : The Apogee
Paperback
Description
In Byzantium: The Early Centuries John Julius Norwich told the epic tale of the Roman Empire's second capital up to Christmas Day AD 800 - when Pope Leo III crowned Charlemagne as a rival emperor.
This second volume of his magnificent history covers the following three centuries.
In it he continues his compelling chronicle up to the coronation of the heroic Alexius Comnenus in 1081.
The other two volumes in the trilogy, Byzantium: The Early Centuries and Byzantium: The Decline and Fall, are also published in Penguin.
Information
Format: Paperback
Pages: 432 pages
Publisher: Penguin Books Ltd
Publication Date: 30/09/1993
Category: European history
ISBN: 9780140114485
Free Home Delivery
on all orders
Pick up orders
from local bookshops
Reviews
Showing 1 - 3 of 3 reviews.
Review by rcss67
16/06/2015
A good basic introduction, by the standards of history books a racy read about a much mis-understood civilisation. Read it, enjoy it, but if you want to read more move on to Treadgold etc. for a more exacting description of a fascinating culture.
Review by flmcgough
16/06/2015
John Julius Norwich provides in his trilogy an excellent overview of Byzantine civilization. For the general reader looking to get the whole picture, or for the scholar probing into a new field, this book is an excellent introduction. For someone already well acquainted with the Byzantines, this is a narrative history, useful for quick consultation but not as deep in any particular subject as you would probably require.
Review by DinadansFriend
16/06/2015
The empress Irene having passed on, power comes to Nicephorous I, one of history's great "Fixers". He is decisive and clear about his goals, and after him, the Empire not only survives, but once again is expanding. The Saga continues through to the great catastrophe of Manzikert in 1081. Norwich has a sure hand with this popularization of a crucial age and area of Europe's History. Well worth the time spent reading this one!