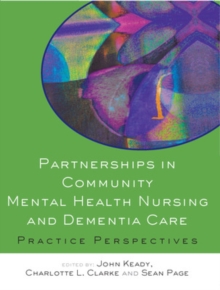 Partnerships in Community Mental Health Nursing and Dementia Care: Practice Perspectives
Paperback / softback
Description
"How useful is this book? I have referred to it often, and found myself quoting information and models of care from it.
I lent it to a colleague to prepare a presentation on 'challenging behaviour' to our local carers' group and he thought it was an excellent resource.
It is key reading for any mental health professional with an interest in improving the quality of life of people with dementia.
I would recommend that all community teams have a copy."Dementia"Overall, this book is useful.
It is well-indexed and has helpful summaries and sections on lessons for practice.
It is to be hoped that the title will not deter clinicians other than nurses from reading it, as it will be of interest and of use to them too."mentalhealth today"This is an excellent reader aimed at a wide readership.
I believe it is particularly appropriate for qualified staff in CMHTs, but also for mental health, occupational therapy and social work students as a comprehensive introductory text for mental health for older people in community settings."Mark Vincent, University of Northampton, UK"A very useful foundation book for those wishing to understand the challenges of dementia care. "Anthony Fraher, University of the West of England, UKWhat is the role of the community mental health nurse (CMHN) in dementia care?What knowledge and frameworks influence the way CMHNs practice in dementia care?How will community mental health nursing be driven forward in the future?This exciting and long-awaited new book is a companion volume to the respected Community Mental Health Nursing and Dementia Care: Practice Perspectives (Open University Press, 2003, edited by Keady, Clarke and Adams).
The book enhances the link between theory and practice, providing a rounded and evidence-based account of the complexity, breadth and diversity of community mental health nursing practice in dementia care.The text is divided into three distinct sections:Models of community support and practice valuesProfessional roles and clinical work Moving forward: Changing and developing CMHN practiceThe book includes coverage of key contemporary issues such as service user involvement, nurse prescribing, younger people with dementia, social exclusion and vulnerability.Partnerships in Community Mental Health Nursing and Dementia Care: Practice Perspectives is key reading for students of dementia care at all levels.
It is also of relevance to professionals within the field of community mental health nursing and all other mental health or gerontology related areas.Contributions to this book are drawn from practising CMHNs in dementia care, researchers and commentators who are working at the forefront of their respective fields.
Contributors: Trevor Adams, Susan Ashcroft-Simpson, Caroline Baker, Diane Beavis, Catherine Brannan, Dawn Brooker, Shane Burke, Suzanne Cahill, Caroline Cantley, Peter Caswell, Charlotte L.
Clarke, Vivienne Davies-Quarrell, Kenneth Day, Kay de Vries, Aine Farrell, Paula Gardiner, Sue Gunstone, Philip Hardman, Steve Iliffe, Dee Jones, Gary and Linda Jones, John Keady, Cordelia Man-yuk Kwok, Jenny Mackenzie, Mike Nolan, Simon O'Donovan, Sean Page, Emma Pritchard, Jan Reed, Jeannie Robinson, David Stanley, Fiona Wilkie, Heather Wilkinson, Kevin G.
Wood
Information
Format: Paperback / softback
Pages: 312 pages
Publisher: Open University Press
Publication Date: 16/07/2007
Category: Psychiatric nursing
ISBN: 9780335215812
Free Home Delivery
on all orders
Pick up orders
from local bookshops