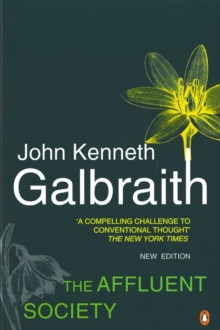 The Affluent Society : Updated with a New Introduction by the Author
Paperback
Description
John Kenneth Galbraith's international bestseller The Affluent Society is a witty, graceful and devastating attack on some of our most cherished economic myths. As relevant today as when it was first published over forty years ago, this newly updated edition of Galbraith's classic text on the 'economics of abundance', lays bare the hazards of individual and social complacency about economic inequality. Why worship work and productivity if many of the goods we produce are superfluous - artificial 'needs' created by high-pressure advertising?
Why begrudge expenditure on vital public works while ignoring waste and extravagance in the private sector of the economy?
Classical economics was born in a harsh world of mass poverty, and has left us with a set of preconceptions ill-adapted to the realities of our own richer age. And so, too often, 'the bland lead the bland'. Our unfamiliar problems need a new approach, and the reception given to this famous book has shown the value of its fresh, lively ideas. 'A compelling challenge to conventional thought' The New York Times 'He shows himself a truly sensitive and civilized man, whose ideas are grounded in the common culture of the two continents, and may serve as a link between them; his book is of foremost importance for them both' The Times Literary Supplement John Kenneth Galbraith (1908-2006) was a Canadian-American economist.
A Keynesian and an institutionalist, Galbraith was a leading proponent of 20th-century American liberalism and progressivism.
Galbraith was the author of 30 books, including The Economics of Innocent Fraud, The Great Crash: 1929, and A History of Economics.
Information
Format: Paperback
Pages: 288 pages
Publisher: Penguin Books Ltd
Publication Date: 05/08/1999
Category: Economic theory & philosophy
ISBN: 9780140285192
Free Home Delivery
on all orders
Pick up orders
from local bookshops
Reviews
Showing 1 - 2 of 2 reviews.
Review by DLSmithies
16/06/2015
Chapter 17 on the Theory of Social Balance is brilliant.
Review by rizeandshine
16/06/2015
This book was on Newsweek's list of the top 100 books, which I am currently reading through. I don't have much of an interest in reading about economics, which accounts for a mere three stars in this review, but as far as economics goes, The Affluent Society was well-written and easy to read and contained quite a bit of interesting information, even if I didn't always agree with the author. In some ways it seems he really has a handle on the post WWII economic society in America, not only at the time he wrote the book in 1958 but even today. However, many of his ideas sound good on paper but do not necessarily work in practice. I am all for keeping our public roads in good shape and our parks clean and, most importantly, open, but heavy taxation today may not result in any better care of our roads or parks and may just end up lining the pockets of our government leaders. Also, his ideas on unemployment insurance and social welfare (which basically have been put in to practice), may be good ideas in a society where idleness is frowned upon, but this no longer seems to be the case and the system is often abused at taxpayer expense.
Also by John Kenneth Galbraith | View all