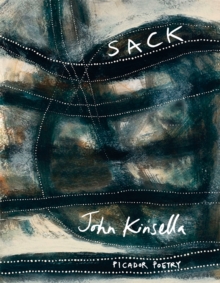 Sack
Paperback / softback
Description
In John Kinsella's new collection, 'Sack' not only refers not only to the shocking title poem, where a tied, writhing sack is seen flung from a car into gully - but also to the sacking and exploitation of the landscape and those who labour on it.
Kinsella draws vividly on 'childhood memories' - but reveals them for the hard truths they are, by subtracting the cushioning effects of nostalgia.
Kinsella shows how childhood prefigures our adult experience, and how its residues (here, those also take the literal form of asbestos and radiation) influence and shape our futures.
Elsewhere, Kinsella resurrects an old form to do new work: the 'penillion' is an old Welsh stanza whose concision and insistent musicality provide the ideal means to encapsulate and concentrate Kinsella's vision of the land, animal life, and our sometimes fraught relationship with both.
These short poems reveal astonishing and unsuspected correlations between music and form, place and language - and will come as a delightful surprise to those who know Kinsella primarily as a freewheeling long-form poet.
But throughout Sack, the articulate urgency of Kinsella's lyric builds to nothing so much as a call to action, and underlines John Kinsella's reputation as one of the greatest Australian poets of the last fifty years.
Information
Format: Paperback / softback
Pages: 128 pages
Publisher: Pan Macmillan
Publication Date: 06/11/2014
Category: Poetry by individual poets
ISBN: 9781447259435
Free Home Delivery
on all orders
Pick up orders
from local bookshops