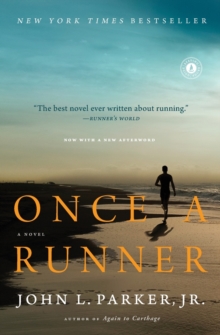 Once a Runner : A Novel
Paperback
Description
Originally self-published in 1978, Once a Runner captures the essence of competitive running-and of athletic competition in general-and has become one of the most beloved sports novels ever published.
Inspired by the author's experience as a collegiate champion, the story focuses on Quenton Cassidy, a competitive runner at fictional Southeastern University whose lifelong dream is to run a four-minute mile.
He is less than a second away when the turmoil of the Vietnam War era intrudes into the staid recesses of his school's athletic department.
After he becomes involved in an athletes' protest, Cassidy is suspended from his track team.
Under the tutelage of his friend and mentor, Bruce Denton, a graduate student and former Olympic gold medalist, Cassidy gives up his scholarship, his girlfriend, and possibly his future to withdraw to a monastic retreat in the countryside and begin training for the race of his life against the greatest miler in history.
A rare insider's account of the incredibly intense lives of elite distance runners, Once a Runneris an inspiring, funny, and spot-on tale of one man's quest to become a champion..
Information
Format: Paperback
Pages: 304 pages
Publisher: Simon & Schuster
Publication Date: 06/04/2010
ISBN: 9781416597896
Free Home Delivery
on all orders
Pick up orders
from local bookshops
Reviews
Showing 1 - 4 of 4 reviews.
Review by teddyballgame
31/07/2015
I loved this book. I discovered running at a much later stage in my life than Quentin Cassidy, the main protagonist of Once a Runner. However, I can completely understand and respect the life of a competitive, elite, collegiate long distance runner.The book flows really well. The prose is excellent. You really begin to understand what makes these guys tick. It's a great fictional way to get insight into a world that few people get exposed to.
Review by FireandIce
31/07/2015
This book, originally published in the later '70's, became something of the holy grail of running. Copies were sold out of people's trunks at races. Runners passed it around to members of their running clubs. And it's easy to see why. Although a work of fiction, Quenton Cassidy's struggle to become The Best miler is inspiring.
Review by JechtShot
31/07/2015
Once a Runner is a fictional account of a college track athlete, Quenton Cassisdy, who sacrifices just about everything to be his best at running the mile. The story is classified as fiction, but the characters have so much life it is hard to perceive this as anything but a biography of a runner. The mental and physical mechanics of running are described with such authentic detail that you will find your pulse quickening with every step of your vicarious hitchhiking exepedition with Quenton Cassidy on his 1600 meter journey to greatness. If you are looking for an inspirational story about running, I highly recommend this book.
Review by YogiABB
31/07/2015
My brother Bob, a huge runner from when running wasn't cool, gave me this book. It was written back in 1978 and is recently back in print.It is novel about running and runners written back during the days of "no pain, no gain" and "pain is what weakness feels like as it leaves the body," and "sweat is just your fat cells crying." The plot doesn't really matter, it is about running by real runners.The book starts our really slow. One problem is that the author seems to have gotten a brand new thesaurus and is really giving it a workout plus he is pulling the stops on every simile, metaphor, adjective, and adverb he has ever heard about. About halfway through the book though the author starts writing in a more natural style and the story grabs you and pulls you through to the end.The book is about obsession, dedication, and hard work and has the best description of running a race I've ever read (not that I would know a thing about running a race.)Buy this book (or get it from your library), and read it. You'll like it.