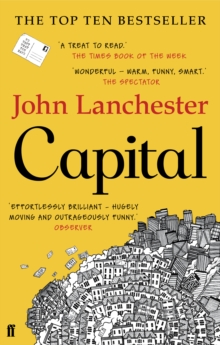 Description
The residents of Pepys Road, London - a banker and his shopaholic wife, an elderly woman dying of a brain tumour, the Pakistani family who run the local shop, the young football star from Senegal and his minder - all receive anonymous postcards with a simple message: We Want What You Have.
Who is behind it? What do they want? As the mystery of the postcards deepens, the world around Pepys Road is turned upside down by the financial crash and all of its residents' lives change beyond recognition over the course of the next year.
From the bestselling author of Whoops! and How to Speak Money comes a post-financial crisis, state-of-the-nation novel told with compassion, humour and unflinching truth.
Information
Format: Paperback
Pages: 592 pages
Publisher: Faber & Faber
Publication Date: 01/01/2013
ISBN: 9780571234622
Other Formats
EPUB from £5.58
Paperback from £7.69
Free Home Delivery
on all orders
Pick up orders
from local bookshops
Reviews
Showing 1 - 5 of 8 reviews.
Previous | Next
Review by sometimeunderwater
16/06/2015
Novels should complicate our sometimes-simplistic understanding of people and situations, not pander to them. There are a lot of stereotypes in this book, but few actual people. The plot is banal, offering little in the way of insight or depth, and the writing reads at times like an A Level creative writing essay. Tired cliches drift in and out: an investment banker with a money-obsessed wife, a hard-working polish builder who wants a girlfriend, a middle-eastern shop owner arrested for terrorism, an anonymous graffiti artist who sells his work for millions: all lazy reflections of a city and time that John Lanchester has failed to actually grapple with. The only chapter worth reading is the prologue. You'll learn more about London and late-capitalism from reading a copy of Metro.
Review by Eyejaybee
16/06/2015
I read this novel as soon as it was published earlier this year, and when I reviewed it then I forecast that I would re-read it fairly soon, though I didn't expect to do so quite so soon - in fact, I can't remember ever re-reading a book so quickly. However, this fine book stood up to such close scrutiny without let or hindrance, and I am reinforced in my earlier judgement of it as one of my favourite novels.The novel starts in late 2007 and revolves around Pepys Street, a small road in south London where house prices, from a modest start over hundred years ago when they were first built, have rocketed to well over a million pounds. The residents are a mixed bunch and include Roger Yount, a merchant banker with Pinker Lloyd, one of the more successful trading houses in the City, his spendthrift wife Arabella, Freddy Kamo, a highly talented seventeen year old footballer who has just been brought over from his native Senegal to play for one of the London Premiership teams at £20,000 per week and Petunia Howe, an elderly widow who was born in the street nearly eighty years ago and has lived there ever since.As the novel opens, Roger Yount is desperate to find out how large his bonus for that year will be - he is hoping for at least one million pounds and, in fact, can't imagine how he will manage to make ends meet with anything less. On his way to the office he finds a card has been pushed through his letter box bearing a picture of his own front door with the logo "We want what you have". It turns out that all of his neighbours have received similar cards, each of them bearing a picture of their respective houses. At first they all assume that this is a marketing gimmick by a local estate agency, but the cards keep coming, followed by DVDs showing footage of the street taken at different times of the day, but never with anyone in shot. And then things start to get nasty ...In the meantime Zbigniew, a Polish builder, has been making a decent living from the street. His building work is excellent, and always completed on time to a high standard, and as soon as one job finishes he finds another one waiting for him.In fact, everyone seems to be getting on with life very happily until Petunia collapses in the local newsagent's shop, and then everything seems to start to unravel.There are some fantastic set pieces - the scene where Roger goes to hear about his bonus, and Freddy's first appearance in a Premiership match stand out particularly, though there are dozens of other beautifully crafted vignettes. Similarly the characters, including some of the less central figures, are beautifully drawn, including a shadowy anonymous street artist, clearly modelled on Banksy, and Quentina, a Zimbabwean asylum seeker who is illegally employed as a traffic warden.There was a lott of hype surrounding this novel, but to my mind it has fully lived up to expectations. I am sure I will be re-reading this book again in the not-too-distant future.
Review by Steve38
16/06/2015
A sturdily constructed tale of a random group of Londoners about to experience the great financial crash. United only by the fact they all live on the same street. A banker, a footballer, a Polish builder, an Asian shop keeper, a pensioner. United in geography and environment but a group of individuals. The construct allows the author to show how the political and economic events of the time work their way down to the lives of people on the street.Well told, a page turner if a few too many pages if truth be told. But in the end it's a shrug of the shoulders and a so-what? We don't have any particular feelings about any of the peole we've met. Too little characterisation and too overt a structure. Too many words and too little to say.
Review by jtck121166
16/06/2015
I thoroughly enjoyed this proper novel - at first - and I thought - at first - that many of my fellow reviewers here were being a little churlish.But there is a sense that it adds up to less than the some of its parts. In a large cast, some characters are more engaging than others (inevitably, I suppose, but must it really be inevitable?), and I did have to fight quite hard to stop myself skipping over the chapters concerning my least favourites.I kept waiting to find out how things would go as and when the various lives began to intertwine ... but apart from a couple of near misses, they remained isolated from each other, even as they inhabited houses on the same street. Realistic in this at least.The 'mystery' was feeble and inconsequential, as, in fact, to a greater or lesser extent, were the stories of all the inhabitants of Pepys Road.
Review by GingerCrinkle
16/06/2015
Ended up being a bit disappointed. A good start but everything then fizzled out. There are some amusing passages, particularly about the financial services industry (in which I work). As a state of the nation novel, I thought it a little bleak but also a bit ambiguous.