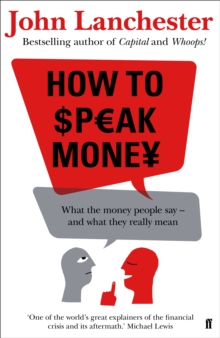 How to Speak Money
Hardback
Description
Money is our global language. Yet so few of us can speak it. The language of the economic elite can be complex, jargon-filled and completely baffling.
Above all, the language of money is the language of power - power in the hands of the same economic elite.
Now John Lanchester, bestselling author of Capital and Whoops! sets out to decode the world of finance for all of us, explaining everything from high-frequency trading and the World Bank to the difference between bullshit and nonsense.
As funny as it is devastating, How To Speak Money is a primer and a polemic.
It's a reference book you'll find yourself reading in one sitting. And it gives you everything you need to demystify the world of high finance - the world that dominates how we all live now.
Information
Format: Hardback
Pages: 304 pages
Publisher: Faber & Faber
Publication Date: 27/08/2014
Category: Finance
ISBN: 9780571309818
Other Formats
Paperback from £7.85
EPUB from £6.39
Hardback from £16.29
Free Home Delivery
on all orders
Pick up orders
from local bookshops
Reviews
Showing 1 - 2 of 2 reviews.
Review by atticusfinch1048
16/06/2015
How to Speak Money – Very Funny John Lanchester has followed up his highly successful book Whoops!, with a funnier but brilliant account and well timed book, How To Speak Money. Be honest we all know that if bankers and economists want to exclude all people from listening in to their conversations they start talking money. It can go straight over your head as it seems so obscure as to exclude most. Once up on a time when I had a sensible job I used to be a mortgage underwriter and was part of this world where money and its uses had its very own language. This is what Lanchester brings us in this funny but honestly well written account.As John Lanchester shows us in the book that we are not being stupid if we do not understand what the money men are talking about, even the suggestion that they make it hard to understand and that made me smile as the book shows once deciphered it is easy to understand. Rather like those who have MBAs or management speech once you clear the unnecessary words it is clear what they are talking about.He is also able to show us that all money men are not above using euphemisms to hide what they really mean and within the book we get an excellent lexicon of all this. Rather than saying sacking or making redundant we get "reducing payroll" or "synergy" all words that should send a shudder down your back.One of my personal favourite metaphors that Lanchester uses is in the description of the World Bank and the IMF. One that hands out loans is nice and cuddly out good cop and the other is the bad cop, I wish I could have thought of that as probably the best description for them both.How To Speak Money is one of the funniest, most needed polemics for a long time, something that will be kept on my bookshelf as an interesting but required reference book. This may sound like a very serious book way to heavy for a normal person to read, but it is gentle and entertaining while being informative. If you want to keep up with what is happening in our economy now and in the future this is the book for you.
Review by prichardson
27/08/2015
Another highly enjoyable Lanchester book who remains an indispensable guide to the complexities of the financial system. The dictionary format makes this a fast read.