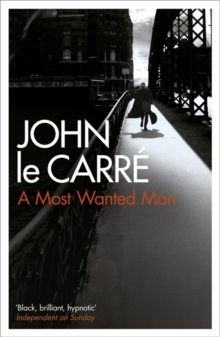 A Most Wanted Man
Paperback
Description
A half-starved young Russian man in a long black overcoat is smuggled into Hamburg at dead of night.
He has an improbable amount of cash secreted in a purse round his neck.
He is a devout Muslim. Or is he? He says his name is Issa. Annabel, an idealistic young German civil rights lawyer, determines to save Issa from deportation.
Soon her client's survival becomes more important to her than her own career.
In pursuit of Issa's mysterious past, she confronts the incongruous Tommy Brue, the sixty-year-old scion of Brue Freres, a failing British bank based in Hamburg.
A triangle of impossible loves is born. Meanwhile, scenting a sure kill in the so-called War on Terror, the spies of three nations converge upon the innocents.
Poignant, compassionate, peopled with characters the reader never wants to let go, A MOST WANTED MAN is alive with humour, yet prickles with tension until the last heart-stopping page.
It is also a work of deep humanity, and uncommon relevance to our times.
Information
Format: Paperback
Pages: 384 pages, n/a
Publisher: Hodder & Stoughton General Division
Publication Date: 25/06/2009
ISBN: 9780340977088
Other Formats
Paperback from £7.25
CD-Audio from £16.95
eAudiobook MP3 from £15.08
Free Home Delivery
on all orders
Pick up orders
from local bookshops
Reviews
Showing 1 - 4 of 4 reviews.
Review by sharonlflynn
16/06/2015
I found this a little bit confusing at first, I couldn't work out who each character was or how they were connected. As the book went on, though, I got caught up in the story. It's about a Chechen man who is smuggled into Germany. The man, Issa, is a rebel and a "known" terrorist who has been tortured. He makes contact with a lawyer, Annabel Richter, and a wealthy British banker, Tommy Brue. He needs their help in order to stay in Germany and become a doctor. As the story unfolds, we see that Frau Richter desperately wants to help Issa, and Mr Brue's bank has a past which means that Issa has claim to millions held in its vaults. Enter German, British and US Intelligence!
Review by reading_fox
16/06/2015
Not one of Le Carre's best. It's a simplified reworking of several themes that he's covered before. Unfortunately they don't benefit from the simplified treatment. We have the usual innocent (ish) runaway, pursued by the world's security forces; the naive bystanders eager to help the poor waif; and the corrupted agents trying to do the best they can in the world - holding off the combined forces of evil represented by their competing Agencies and the bad terrorists. There's a pretty girl and an attracted man, and a small town in Germany. (well OK it's set in Hamburg, but it is such a generic Hamburg that it could be anywhere.) You can guess all the rest quite clearly. It is again another screed bemoaning the overreaching US led anti-terror security forces. It's a short book (fro LeCarre) The characters are thin for Le Carre, the action also repressed, and the descriptions terse. None of this plays to his strengths. The slow plot meanders it way to the inevitable conclusions, without any of the twists, turns, mis-directions, or sheer personalities that Le Carre has inspired in his more memorable works. Skip this, and read Night Manager or Our Game, which cover the same themes in much better style.
Review by abrahamhyatt
16/06/2015
Very solid, emotionally taught le Carré, right up until the ham-fisted, trite ending. I miss the old le Carré.
Review by pgmcc
27/08/2015
A Most Wanted Man by John Le Carré While A Most Wanted Man was a well written page turner it lacked the complexity I have come to love in Le Carré's novels. Published in 2009 it was topical and I suspect it was the author's way of bringing the practice of extraordinary rendition carried out by governments that keep quite about what they are doing and, when their actions are exposed, justify everything under the banner, "The War on Terrorism".Le Carré gives the reader a glimpse of the shady world of international counter espionage and the pervasive nature of modern surveillance.A somewhat linear tale told by a master whose stories are not normally so straightforward.