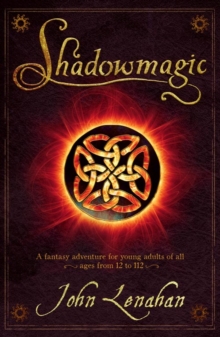 Description
A Lord of the Rings for the 21st century. Only a lot shorter. And funnier. And completely different.Conor thought he was an average teenager.
OK, so his father only had one hand, spoke to him in ancient languages and was a bit on the eccentric side but, other than that, life was fairly normal.
Until, that is, two Celtic warriors on horseback and wearing full armour appear at his front door and try to kill him.
After that, things get pretty weird.Shadowmagic is a fantasy adventure for young adults (although grown ups will like it too).
Written by one of the most popular magicians in the country it brings a fresh approach to the genre and will have a broad appeal beyond the fantasy sections.
Information
Format: Paperback
Pages: 288 pages
Publisher: HarperCollins Publishers
Publication Date: 06/08/2009
Category: Fantasy
ISBN: 9781905548927
Other Formats
Mixed media product from £11.35
EPUB from £0.99
Free Home Delivery
on all orders
Pick up orders
from local bookshops
Reviews
Showing 1 - 4 of 4 reviews.
Review by Badass_Book_Reviews
16/06/2015
I thought it was a good listen (audiobook) I enjoyed it, I didn't have to think too much while listening, yes the narrator, 18 year old Connor does seem a bit sheltered and naive at times, but overall, I liked him. What 18 year old doesn't sometimes succomb to naivety and shallowness? <p>It's a good car listen, as my little children weren't scared and there was no swearing and little violence, I didn't mind them hearing the story.
Review by Nalle42
16/06/2015
I have to issue a warning for this Book!I would certainly not buy this book but it exercised its power over me and managed to come home with me anyway. Nevertheless, when I did buy it, I figured that it would probably be shelved for a year or so, since I have so many other books to read before it was time for this one. But every time I passed it, I glanced at it and it made me think that I could probably read just the first chapter to see what I thought about it. Then when I had started reading, I realized that I could not stop, but still I thought that I would manage to read some of the other books I was reading at the time; but alas, I could not. If I would not have had to go to work I probably would not have been able to put it away at all.So the warning is this: If you are not supposed to buy the book do not go into a bookstore that has it. If you think that it might be good enough, if you think "I'll buy it and read it later. I do not have time right now," do not do buy it! Wait until you have the time to read it!So what did I think about the book then? On the cover it says "A Lord of the Rings for the 21st century. Only a lot shorter. And funnier. And completely different." Now I have not read the Lord of the Rings trilogy, so I cannot say much about that, but I do see some similarities with the Harry Potter books even if they are still very different. So if you liked Harry Potter chances are good that you might also like this book. I hope that John Lenhan writes more books in the same style and look forward to reading them if this happens.
Review by quincidence
16/06/2015
To be young to be old, the sociology of fantasy and what makes the heart twitter and race, and resign to the future.I loved the plot twists, the family structuring, the sociological age renditions, and the detail of what is new and old put to the test.I listened to the author while he took me on a journey to start a new, visit old habits, and rethink the way one looks at the word, the world, the meanings of the present danger, and the meanings of what is family. What is present danger, and what is really just a dream.We all enter a dream and fear it is real or hope it is real. The book takes us into the stage where we have to decide if the dream state might , or might not actually be better, as real firm earth, is still something to never be taken for granted.
Review by hscherry
16/06/2015
Absolutely loved this book. Couldn't put it down. Can't wait for the next one! :)
Also in the Shadowmagic series