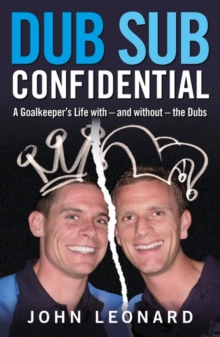 Dub Sub Confidential : A Goalkeeper's Life with - and without - the Dubs
Paperback / softback
Description
Dub Sub Confidential by John Leonard: a GAA memoir like no other. WINNER OF THE SETANTA SPORTS IRISH SPORTS BOOK OF THE YEAR AWARD. John Leonard was a gifted Gaelic football goalkeeper who had the misfortune to reach his prime at the same time, and in the same county, as one of the all-time greats: Stephen Cluxton.
Unless something happened to Clucko, Leonard was always going to be number 2.
Of course, it didn't help that he had a problem with drink and drugs ... Dub Sub Confidential is John Leonard's vivid, witty and searingly honest account of his life in and out of sport.
He was both a committed Dub and a sceptical observer of the goings on in the dressing-room and on the training pitch.
He writes about the players and the mentors, and about the oddity of being part of the GAA's biggest circus while never expecting to get on the pitch. And he writes brilliantly about the demons that led him to addiction, his efforts for many years to party hard and train hard, and his eventual breakthrough to sobriety. Dub Sub Confidential is a GAA memoir like no other yet published - a book about how Gaelic games collide with real life.
It is also a brilliant read from a remarkable personality. 'Four decades after Eamon Dunphy published Only a Game?, his seminal book on football, John Leonard has produced the Gaelic football equivalent - only it's better' Sunday Times Sports Books of the Year'Reads like Fear and Loathing in Las Vegas ... a great read' Ray D'Arcy, RTE Radio 1'As fascinating as its insights into the Dublin dressing room and the big matchdays are, to reduce Dub Sub Confidential to being just a sports or GAA book is to do it an injustice; it is an astonishing, exceptional, visceralaccount of a confused young man' Irish Examiner'Engaging, honest, sad and frightening in places - ultimately raw and real.
Couldn't put it down' Ryle Nugent, RTE'The overall feeling of Leonard's sporting life is of a high-wire act.
He somehow managed to have a part-time romance with Dublin football while full-bloodedly chasing whatever and whoever was on offer in Dublin after dark ...
There is an antic and often jubilant energy to Leonard's writing' Keith Duggan, Irish Times'Remarkable ... a stark and searingly honest memoir' the42.ie'Students of Gaelic football will be intrigued by his account of the rivalry with Cluxton, arguably the most important player of modern times' Sunday Times
Information
Format: Paperback / softback
Pages: 240 pages
Publisher: Penguin Books Ltd
Publication Date: 02/06/2016
Category: Autobiography: sport
ISBN: 9780241971666