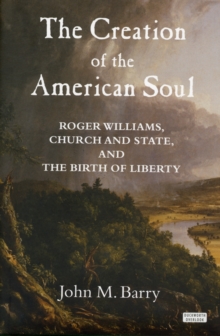 Creation of the American Soul
Hardback
Description
Roger Williams was the first to describe individual liberty in modern terms a huge influence on men such as Oliver Cromwell, John Milton and John Locke.
His story has a backdrop of intellectual, political, religious and social upheaval which led to the writing of the King James Bible, the civil war, revolution, and the beheading of the king of England.
Influenced by the great jurist Edward Coke and his mortal enemy, Francis Bacon, Williams developed concepts of individual rights and limits on state power as well as an understanding of the world through evidence, rather than belief or predisposition.
In this way, an altogether revolutionary point of view was produced.
At this time America saw efforts to establish a society based upon such beliefs.
Award-winning author John M. Barry examines the origins of both the relationship between church and the state, and the balance between rights of the individual versus the power of the state.
Williams insisted that there should be a wall of separation between the church and the state and that the government receive its power from and be controlled by its citizens.
Banished and threatened by death for such views, Williams founded Providence, a society in Rhode Island, where he continued to shape his ideas one hundred and fifty years before many of them were realised by Thomas Jefferson.
Information
Format: Hardback
Pages: 464 pages
Publisher: Duckworth Overlook
Publication Date: 08/11/2012
Category: History of the Americas
ISBN: 9780715644249
Free Home Delivery
on all orders
Pick up orders
from local bookshops
Also by John M. Barry