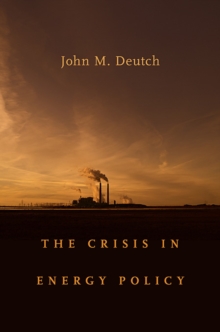 The Crisis in Energy Policy
Hardback
Description
Our future depends on what we do about energy. This stark fact, clear since the oil embargo of the 1970s, has been hammered home through crisis after crisis-and yet our government has failed to come up with a coherent energy policy.
John Deutch, with his extraordinary mix of technical, scholarly, corporate, and governmental expertise in the realm of energy, is uniquely qualified to explain what has stood in the way of progress on this most pressing issue.
His book is at once an eye-opening history of the muddled practices that have passed for energy policy over the past thirty years, and a cogent account of what we can and should learn from so many breakdowns of strategy and execution. Three goals drive any comprehensive energy policy: develop an effective approach to climate change; transition from fossil fuels to renewable energy technologies; and increase the efficiency of energy use to reduce dependence on imported oil.
Why has every effort in this direction eventually fallen short?
Deutch identifies the sources of this failure in our popular but unrealistic goals, our competing domestic and international agendas, and our poor analysis in planning, policy-making, and administering government programs.
Most significantly, The Crisis in Energy Policy clarifies the need to link domestic and global considerations, as well as the critical importance of integrating technical, economic, and political factors.
Written for experts and citizens alike, this book will strengthen the hand of anyone concerned about the future of energy policy.
Information
Format:Hardback
Pages:192 pages, 1 halftone, 12 line illustrations, 4 tables
Publisher:Harvard University Press
Publication Date:05/10/2011
Category:
ISBN:9780674058262
Also in the The Godkin Lectures on the Essentials of Free Government and the Duties of the Citizen series