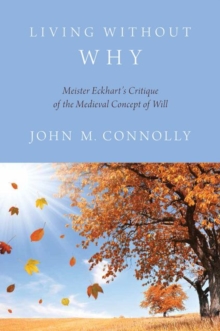 Living Without Why : Meister Eckhart's Critique of the Medieval Concept of Will
Hardback
Description
What does it mean to "live without why"? This was the advice of Meister Eckhart (ca. 1260-1328), both in his Latin treatises to philosophers and theologians and in his German sermons to nuns and ordinary lay persons.
He seems to have meant that we should live and act out of justice or goodness and not in order to gain some reward for our deeds.
This message was received with indignation by the Church hierarchy and was condemned by the Pope in 1329.
How did Eckhartcome to formulate it? And why was it so controversial?John M. Connolly addresses these questions by locating Eckhart's thinking about how to live within the mainstream synthesis of Christian and classical thought formulated in the High Middle Ages.
He calls the classical Greek moral consensus "teleological eudaimonism," according to which correct living coincides with the attainment of happiness (eudaimonia).
This involves living a life marked by the practice of the virtues, which in turn requires a consistent desire for the correct goalin life.
This desire is the core notion of will. In late antiquity Augustine drew on this tradition in formulating his views about how Christians should live.
This required grafting onto classical eudaimonism a set of distinctively scriptural notions such as divine providence, original sin, redemption, andgrace.
In the 13th century these ideas were systematized by Thomas Aquinas in his will-centered moral theology. Eckhart claimed that this tradition was profoundly mistaken.
Far from being a wild-eyed mystic or visionary, he argued trenchantly from classical philosophical principles and the Christian scriptures.
Connolly proposes that Eckhart's views, long obscured by the papal condemnation, deserve reconsideration today. "This book is a signal contribution to ancient and medieval philosophy.
By putting Eckhart into conversation with his predecessors (i.e., Aristotle, Augustine, and Aquinas), Connolly does a fine job in identifying where Eckhart makes an original-and still viable-contribution to moral thought in general.
This is a remarkable work, the product of long and careful thought, as well as being clearly presented. " -Bernard McGinn, Naomi Shenstone Donnelley Professor Emeritus of Historical Theologyand of the History of Christianity in the Divinity School and the Committees on Medieval Studies and on General Studies, University of Chicago "It would appear that Connolly has written the right book at the right moment.
Through his work, the English-speaking world can become finally acquainted with the academic discussion of the last decades concerning Eckhart and can furthermore have an original and text grounded interpretation of a relevant section of his philosophical thought." -Loris Sturlese, Professor of Medieval Philosophy, Universita del Salento
Information
Format: Hardback
Pages: 256 pages
Publisher: Oxford University Press Inc
Publication Date: 31/07/2014
Category: Medieval history
ISBN: 9780199359783
Free Home Delivery
on all orders
Pick up orders
from local bookshops