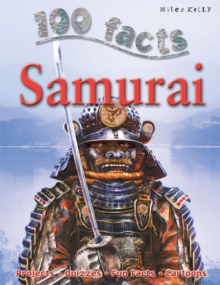 Samurai
Paperback
Part of the 100 Facts series
Description
100 Facts Samurai is bursting with exactly 100 mind-blowing facts, awesome images and fun activities to help children learn everything they need to know about the rise of these Japanese warriors. 100 Facts Samurai covers key topics about these respected fighting figures in easily-digestible, numbered facts.
Every page is covered in detailed illustrations and colourful photographs that bring the text to life for kids.
Essential topics covered in 100 Facts Samurai: - Being a samurai and serving under a warlord- Following the strict rules of the bushido code and warrior training- Periods of war and the decline of the samurai Examples of 'I don't believe it' fascinating facts: - Left-handed children born to samurai families had their left arms tied up, forcing them to become right-handed. - Tokugawa Ieyasu, leader of the Tokugawa clan in the 1500s, didn't like shaved heads - he said it spoiled the look of a head when it was cut off! - In the Star Wars movies, the costume of Darth Vader was inspired by samurai armour.
Activities to make learning accessible and interactive include: - Quiz question: When was the Battle of Nagashino?- Design your own samurai mon (family crest) by looking at traditional examples from this book to get ideas!- Design a long, thin samurai flag.
Make the design simple with bold colours. Author: John MalamConsultant: Fiona MacdonaldPages: 48Age: 6+Dimensions: 9 X 12Format: Paperback with holographic foilISBN: 9781848102989
Information
Format: Paperback
Pages: 48 pages, 100+ illustrations
Publisher: Miles Kelly Publishing Ltd
Publication Date: 01/06/2010
ISBN: 9781848102989
Free Home Delivery
on all orders
Pick up orders
from local bookshops