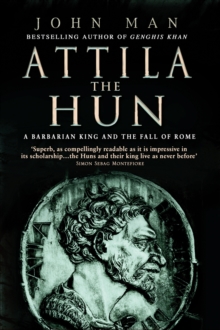 Description
The name Attila the Hun has become a byword for barbarism, savagery and violence.
His is a truly household name, but what do we really know about the man himself, his position in history and the world in which he lived?
This riveting biography reveals the man behind the myth.
In the years 434-454AD the fate of Europe hung upon the actions of one man, Attila, king of the Huns.
The decaying Roman empire still stood astride the Western World, from its twin capitals of Rome and Constantinople, but it was threatened by a new force, the much-feared Barbarian hordes.
It was Attila who united the Barbarian tribes into a single, amazingly-effective army.
He launched two violent attacks against the eastern and western halves of the Roman empire, attacks which earned him his reputation for mindless devastation, and brought an end to Rome's pre-eminence in Europe.
Attila was coarse, capricious, arrogant, ruthless and brilliant.
An illiterate and predatory tribal chief, he had no interest in administration, but was a wily politician, who, from his base in the grasslands of Hungary, used secretaries and ambassadors to bring him intelligence on his enemies. He was a leader whose unique qualities made him supreme among tribal leaders, but whose weaknesses ensured the collapse of his empire after his death.
Information
Format: Paperback
Pages: 416 pages
Publisher: Transworld Publishers Ltd
Publication Date: 01/03/2006
ISBN: 9780553816587
Free Home Delivery
on all orders
Pick up orders
from local bookshops
Reviews
Showing 1 - 2 of 2 reviews.
Review by woodpigeon01
16/06/2015
This is an interesting book. John Man provides a portrait of a barbarian lord who never quite lived up to his modern day persona. Attila failed to conquer Rome, or Constantinople, or Gaul: and yet the name Attila conjures up a half-demon in contemporary minds. He seems to have been a man of his time, where brutality and plunder were the commerce of the day. John Man's hero worship of the Hungarian horse-archer goes a bit over the top, however he does provide a fascinating picture of a Roman Empire undergoing slow, relentless collapse.
Review by Meggo
16/06/2015
Not as enjoyable a book as Man's book on Genghis Khan, this book was a curious mix of modern tales and history, of fact and conjecture. The mix made me doubt the truth of the tale. Not recommended for serious historians of the period, as it reads more like a travelogue.