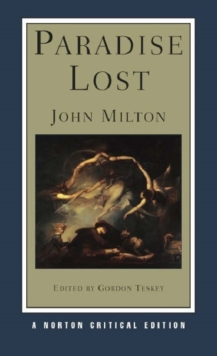 Description
Gordon Teskey's freshly edited text of Milton's masterpiece is accompanied by a new introduction and substantial explanatory annotations.
Spelling and punctuation have been modernized, the latter, importantly, within the limits imposed by Milton's syntax. "Sources and Backgrounds" collects relevant passages from the Bible and Milton's prose writings, including selections from The Reason of Church Government and the full text of Areopagitica. "Criticism" brings together classic interpretations by Andrew Marvell, John Dryden, Victor Hugo, and T.
S. Eliot, among others, and the most important recent criticism and scholarship surrounding the epic, including essays by Northrop Frye, Barbara Lewalski, Christopher Ricks, and Helen Vendler.
A Glossary and Selected Bibliography are also included.
Information
Format: Paperback
Pages: 624 pages
Publisher: WW Norton & Co
Publication Date: 15/12/2004
Category: Poetry by individual poets
ISBN: 9780393924282
Other Formats
Paperback from £2.50
CD-Audio from £11.39
Hardback from £10.75
EPUB from £0.99
Free Home Delivery
on all orders
Pick up orders
from local bookshops
Reviews
Showing 1 - 5 of 5 reviews.
Review by 9days
16/06/2015
This is by far my favorite edition of Paradise Lost. Since the text is full of archaic references, understanding what is meant can often be difficult (and result in a lot of trips to reference books).But this edition provides footnotes that explain each reference and allusion, making reading much easier (and understandable).Also included are a couple other smaller works by Milton, as well as thoughts and criticism on Paradise Lost (most notably the contribution from C.S. Lewis).
Review by wordebeast
16/06/2015
The kids never like it when you say you're reading this for class, but actually, tolkien fans should have a blast with it.
Review by WalkerSteven
16/06/2015
Paradise Lost has been one of the most challenging yet satisfying reads I have ever experienced. The story is about Satan and his fall from heaven. It goes through his battle with God, his fall into hell, his fellow fallen angels, his journey to Eden, and his corruption of the garden of paradise. It is a difficult novel to read because, not only is the language very difficult, but for a christian reader, it sometimes seems as if Satan is heroic and pitiable. I found myself often having to step back and say "remember Walker, this is the same guy who corrupted all of mankind".I read this Epic because I felt it might fit in well with the topic of Utopias and Dystopias. I was not disappointed. Although the story was not particularly about a Utopia or Dystopia, it dealt with the destruction of the Utopia (Eden), and the seeds which Satan laid to create earth into a Dystopia. After reading the almost atheistically Oriana novel Brave New World, it was fascinating to see a Christian side to the Utopia vs. Dystopia conflict.Although I enjoyed the Epic, I would not recommend it to many readers under the age of 20. I know that I would not have been able to make heads or tale of it had I not had a background in Vergil's Aeneid. After translating the Aeneid from the original Latin, I knew what to expect from Paradise Lost (which Milton wrote as an allusion to the Aeneid). The prose is extremely difficult, and is made all the more difficult by the numerous Biblical references as well. Unless you have spent significant time reading stories that are written in Epic form, or follow the metrical patterns of Roman literature, I do not think you will understand this Epic.
Review by VivalaErin
16/06/2015
The shortest answer is: John Milton was a poetic genius. PL is so beautiful, you can't help but feel for Adam and Eve. Even Satan is a great character - he so wants to be an epic hero. This poem is a masterpiece, and he wrote it completely blind. Beautiful, absolutely amazing.
Review by erinjamieson
16/06/2015
Books 3, 9-12 are brilliant. This book challenged me and helped me gain maturity as a reader. Even if I read it six more times there would be still so much I wouldn't understand. John Milton (with help from the Holy Spirit) writes an epic poem that stands with the great epic poems of history. This epic poem takes you through the fall of the angels, the fall of man and God's great plan to rescue humanity through the voluntary sacrifice of His Son. This poem does well to illustrate that God is good. His plans are good. Humans turned from God toward Sin. We are depraved and in need of Jesus. I would like to read Paradise Regained some day.
Also in the Norton Critical Editions series | View all