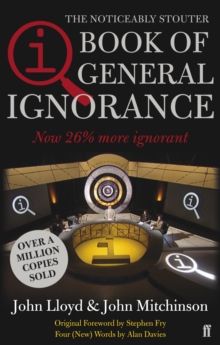 Qi: the Book of General Ignorance - the Noticeably Stouter Edition
Paperback
Description
This is an indispensable compendium of popular misconceptions, misunderstandings and common mistakes culled from the hit BBC show, QI.
From the bestselling authors of The Book of General Ignorance comes a noticeably stouter edition, with 26% extra facts and figures perfect for trivia, pub quiz and general knowledge enthusiasts.
The QI team sets out again to show you that a lot of what you think you know is wrong. If, like Alan Davies, you still think the Henry VIII had six wives, the earth has only one moon, that George Washington was the first president of the USA, that Bangkok is the capital of Thailand, that the largest living thing is a blue whale, that Alexander Graham Bell invented the telephone, that whisky and bagpipes come from Scotland or that Mount Everest is the world's tallest mountain, then there are at least 200 reasons why this is the book for you.
The researchers at QI have written many bestselling books including such titles as The QI Book of General Ignorance and 1,277 Facts To Blow Your Socks Off.
They now present a noticeably stouter edition, an indispensable handbook for trivia lovers, pub quiz enthusiasts and general knowledge experts alike. And remember - everything you think you know is still wrong.
Information
Format: Paperback
Pages: 416 pages
Publisher: Faber & Faber
Publication Date: 01/12/2008
Category: TV tie-in humour
ISBN: 9780571246922
Other Formats
Hardback from £10.25
Paperback from £7.69
EPUB from £5.58
Free Home Delivery
on all orders
Pick up orders
from local bookshops
Reviews
Showing 1 - 5 of 5 reviews.
Review by lewispike
16/06/2015
I find this book hard to review. I like all of the bits of it, but not the overall impression.There are hundreds of little facts, presented in a QI style, funny, gentle, interesting and well-researched. This is all good. Except there are hundreds of little facts and they're too bitty to be really engaging.If you have a job that has moments of quiet and moments of being busy, then it's probably great for you, but I found sitting down to read it like I'd read a normal book an oddly unsatisfying experience overall.
Review by fist
16/06/2015
Enjoyable read. The myth debunking is generally very interesting. In some instances it is less than solid because it relies on a semantic slight of hand, but it is so well written than one forgives the authors gladly.
Review by Shirezu
16/06/2015
A funny, enlightening book about facts you thought you knew but it turns out you really don't. I've only ever watched QI a few times but thought this was a much better way to get all the information. On to volume 2!
Review by martensgirl
16/06/2015
A book which every toilet library should contain.
Review by quiBee
27/01/2016
You never know what you think you know.<br/><br/>This book sure shows you.