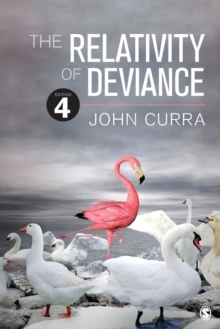 The Relativity of Deviance
Paperback / softback
Description
This engaging and informative book, by award-winning sociologist and criminologist John Curra, offers a valuable perspective on attitudes and behaviors labeled as deviant. The Relativity of Deviance, Fourth Edition, explores the meanings and constructions of social deviance and social reactions to it, he answers such questions as:What is deviance?
What comprises deviant behavior? How are deviants treated? How is deviance socially constructed and socially sustained?Why is the same attitude, behavior, or condition praised in one situation and condemned in another?
Through insightful and thought-provoking examples and informed accounts, the author illustrates that deviance cannot be explained or understood in terms of absolutes or essential characteristics nor can it be explained or understood apart from its social setting.
This book approaches sex, violence, theft, drugs, suicide, rape, and mental disorders in a way that shows the critical role of sociocultural factors and social reactions in constructions of deviance and crime.
Information
Format: Paperback / softback
Pages: 408 pages
Publisher: SAGE Publications Inc
Publication Date: 01/12/2016
Category: Social issues & processes
ISBN: 9781483377346