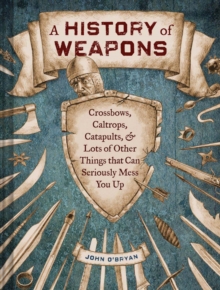 A History of Weapons : Crossbows, Caltrops, Catapults, and Lots of Other Things That Can Seriously Mess You Up
Hardback
Description
From butterfly swords to bo staffs, the only history of weapons you'll ever want.
John O'Bryan hilariously explains weapons like the Bola, Atlatl, Khopesh, Aspis, Falx, Tomahawk, and Flaming Pigs (for real), while delivering real content about history, uses and badass potential.
Stories about Attila the Hun, Genghis Khan, the 'peaceful' Shaolin monks and the ass-whipping Rajput's of India compliment fun sidebars like 'So You Want to Sieze a Fortified City.' Each entry features an illustration of the weapon, either on its own or in action.
A smart package and a great price point complete a book that will elicit a nerdy gasp of appreciation from anyone who can still make good explosion noises.
Information
Format: Hardback
Pages: 232 pages, 180 Colour illustrations
Publisher: Chronicle Books
Publication Date: 23/04/2013
Category: Weapons & equipment
ISBN: 9781452110547
Free Home Delivery
on all orders
Pick up orders
from local bookshops