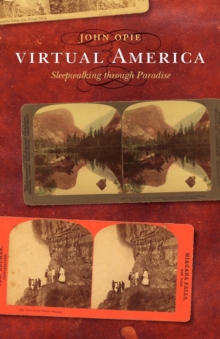 Virtual America : Sleepwalking through Paradise
Paperback / softback
Description
Virtual America traces the complex relationship between Americans, technology, and their environment as it has unfolded over the past several centuries.
Throughout history Americans have constructed mental pictures of unique places, such as the American West, that have taken on more authority than the actual gritty landscapes.
This disconnect from reality is magnified by the new world of virtual realities on the computer screen, where personal immersion in interactive simulations becomes the "default" environment.
Virtual America identifies the connections (or lack thereof) between our individual selves, an American identity, and the geography "out there." John Opie examines what he calls First Nature (the natural world), Second Nature (metropolitan infrastructure/built environment), and Third Nature (virtual reality in cyberspace).
He also explores how Americans have historically dreamed about a better life in daily, ordinary existence and then fulfilled it through the Engineered America of our built environment, the Consumer America of material well-being, and the Triumphal America of our conviction that we are the world's exceptional model.
But these dream worlds have also encouraged placelessness and thus indifference to our dwelling in home ground.
Finally, Opie explores Last Nature (a sense of place) and argues that when we identify an authentic place, we can locate authenticity of self-a reification of place and self-by their connectedness.
Information
Format: Paperback / softback
Pages: 280 pages, 38 photographs, 5 maps, index
Publisher: University of Nebraska Press
Publication Date: 01/01/2010
Category: Social theory
ISBN: 9780803232785