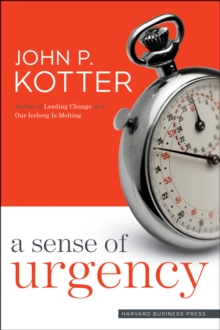 A Sense of Urgency
Hardback
Description
Most organizational change initiatives fail spectacularly (at worst) or deliver lukewarm results (at best).
In his international bestseller Leading Change, John Kotter revealed why change is so hard, and provided an actionable, eight-step process for implementing successful transformations.
The book became the change bible for managers worldwide.Now, in A Sense of Urgency, Kotter shines the spotlight on the crucial first step in his framework: creating a sense of urgency by getting people to actually see and feel the need for change.Why focus on urgency?
Without it, any change effort is doomed. Kotter reveals the insidious nature of complacency in all its forms and guises.In this exciting new book, Kotter explains:* How to go beyond "the business case" for change to overcome the fear and anger that can suppress urgency* Ways to ensure that your actions and behaviors -- not just your words -- communicate the need for change* How to keep fanning the flames of urgency even after your transformation effort has scored some early successesWritten in Kotter's signature no-nonsense style, this concise and authoritative guide helps you set the stage for leading a successful transformation in your company.
Free Home Delivery
on all orders
Pick up orders
from local bookshops
Reviews
Showing 1 - 1 of 1 reviews.
Review by andyjb
16/06/2015
John Kotter is widely regarded as the world's foremost authority on leadership and change. Author of such bestsellers as "Leading Change" and "Our Iceberg Is Melting" this volume came into being after he reflected on the question "What is the single biggest error people make when they try to change?" Deciding the answer to be "...that they did not create a high enough sense of urgency among people to set the stage for making a challenging leap into some new direction" he investigated further by systematically asking managers a set of questions that led him to formulate the strategy outlined in this book. Utilising case studies and interviews, the strategy is based around winning hearts and minds and involves four tactics that, if developed correctly, will increase needed urgency. Once the urgency is in place he then explains how to keep it going and then plan for the future. This is a fairly interesting but extremely well written book. The inclusion of the case studies turn what could have been a dry management theory into a relevant and easily applicable plan of action. Showing how organisations have suffered through complacency and illustrating what could have been done to avoid the suffering is a useful tool that may be plotted against your own organisation. My only criticism would be that it feels a little padded out in places, as if the ideas didn't really need expressing on their own but in one of the books that are quoted throughout.