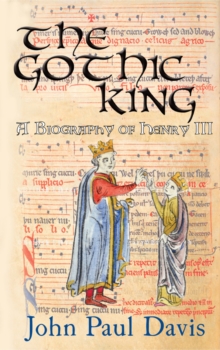 The Gothic King : A Biography of Henry III
Paperback / softback
Description
The first biography in many years of Henry IIIThe son and successor of Bad King John, Henry III reigned for 56 years from 1216, the first child king in England for 200 years.
England went on to prosper during his reign and his greatest monument is Westminster Abbey, which he made the seat of his government indeed, Henry III was the first English King to call a parliament.
Though often overlooked by historians, Henry III was a unique figure coming out of a chivalric yet Gothic era: a compulsive builder of daunting castles and epic sepulchres; a powerful, unyielding monarch who faced down the De Montfort rebellion and waged war with Wales and France; and, much more than his father, Henry was the king who really hammered out the terms of the Magna Carta with the barons.
John Paul Davis brings all his forensic skills and insights to the grand story of the Gothic King in this, the only biography in print of a most remarkable monarch."
Information
Format: Paperback / softback
Pages: 240 pages
Publisher: Peter Owen Publishers
Publication Date: 01/06/2013
ISBN: 9780720614800