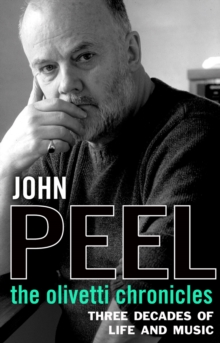 The Olivetti Chronicles
Paperback
Description
John Peel is best known for his four decades of radio broadcasting.
His Radio 1 shows shaped the taste of successive generations of music lovers.
His Radio 4 show, Home Truths, became required listening for millions.
But all the while, Peel was also tapping away on his beloved Olivetti typewriter, creating copy for an array of patient editors.
He wrote articles, columns and reviews for newspapers and magazines as diverse as The Listener, Oz, Gandalf's Garden, Sounds, the Observer, the Independent and Radio Times. Now for the first time, the best of these writings have been brought together - selected by his wife, Sheila, and his four children.
Music, of course, is a central and recurring theme, and he writes on music in all its forms, from Tubular Bells to Berlin punk to Madonna.
Here you can read John Peel on everything from the perils of shaving to the embarrassments of virginity, and from the strange joy of Eurovision to the horror of being sick in trains.
At every stage, the writing is laced with John's brilliantly acute observations on the minutiae of everyday life. This endlessly entertaining book is essential reading for Peel fans and a reminder of just why he remains a truly great Briton.
Information
Format: Paperback
Pages: 496 pages
Publisher: Transworld Publishers Ltd
Publication Date: 21/05/2009
Category: Radio
ISBN: 9780552157049
Free Home Delivery
on all orders
Pick up orders
from local bookshops
Reviews
Showing 1 - 1 of 1 reviews.
Review by flissp
16/06/2015
A posthumous collection of 20 years worth of writings.John Peel was a bit of a hero of mine - a true champion of music in all it's shapes and forms (and when I say all, I mean all). He had a late night BBC Radio 1 show in which he would play the most eclectic selection of music you'll ever come across. It was almost guaranteed that in the space of an hour, he would play something that you absolutely hated, but also at least one thing that you would love - at any rate the one thing he would definitely do would be to introduce you to a whole range of music that you'd never heard before - or thought to have listened to. In fact, a quote from the last piece in the book: "The programmes I do for Radio 1 have always been (roughly) based on the principle that what you're buying, listening to and enjoying is all very well but there exists also something else, less favoured, but equally worthy of your attention. I mean, there's a guitarist in a Peruvian band (and I'm not making this up) who's a knock-out - and who knows what marvellous bands there may not be in, say, Poland or Zaire or Iceland. I want to know about them - and to let you know about them." (Sounds magazine, 20 Jul 1974)There was, and still is no one on Radio to match him for broadening your horizons - and, almost single handed, he introduced me to my own musical taste. OK, he had some help from Steve Lamacq & Jo Whiley's Evening session in the '90s (at which point I date myself...) and Gideon Coe on 6music these days. But basically, he was a very big influence on me and many others of my generation and the generation before as we were growing up. I still have taped snippets of his show stored away somewhere...He was also the kind of DJ that made you feel like he was speaking just to you. Maybe some of your friends. He was cozy. His writing style, while variable, not careful, often rambling, sometimes bizarre and quite frequently off topic, is very similar to the way he spoke - every time I picked up this book, I could hear his voice - something that made me a little sad on several occasions.So. If you're looking for literary style, you're not going to find it in this book. But charm, humour, a passion for music and Liverpool FC and a hefty dislike of the Osmonds, you will find in spades. This was a joy to read.