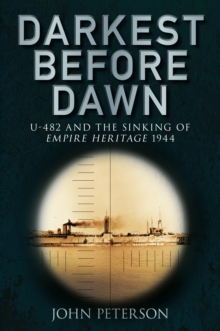 Darkest Before Dawn : U-482 and the Sinking of the Empire Heritage 1944
Paperback / softback
Description
In the autumn of 1944 the Second World War was coming to an end.
In the Atlantic the U-boats had been beaten back through a massive programme of Allied shipbuilding combined with tactical, technological and intelligence improvements.
The threat to Allied shipping had diminished. But it had not disappeared, and a lone U-boat on its first active patrol slipped into the North Channel; in just a few days five ships lay broken on the seabed including the Empire Heritage, one of the largest Allied ships lost during the war, and the Jacksonville, an American tanker sailing out of New York. In Darkest Before Dawn John Peterson presents the story for the first time of how U-482 managed to slip undetected into the busy shipping lanes of the North Channel and carry out the last great U-boat patrol of the war.
It is the story of the attack, the aftermath and the men involved, including the aristocratic U-boat commander von Matushka, who was on the Bismarck when it was sunk earlier in the war - was he driven by revenge to torpedo the Pinto, a rescue ship trying to pick up the survivors of Empire Heritage - an act that some claimed to be a war crime?
Based on new research and previously unpublished material, Darkest Before Dawn presents the definitive account of the attack on convoy HX-305 and unravels the mystery of the fate of U-482.
Information
Format:Paperback / softback
Pages:192 pages
Publisher:The History Press Ltd
Publication Date:25/02/2011
Category:
ISBN:9780752458830