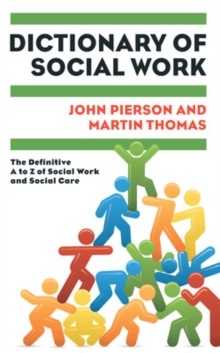 Dictionary of Social Work: The Definitive A to Z of Social Work and Social Care
Paperback / softback
Description
"This updated and revised version of a very popular and well received book provides a key quick reference work for students, and new and experienced practitioners.
The succinct resumes of current issues and their implications for practice and policy help readers to get to grips with the wide range of key concepts and terms used in social work, social care, law and health services.
This book is highly recommended for its wide-ranging set of summaries which are valuable in first encounters with, or updating of, knowledge in social work."Professor Brian Littlechild, Associate Head of School of Nursing, Midwifery and Social Work, University of Hertfordshire "This Dictionary of Social Work provides a comprehensive and authoritative guide to the terminology used in social work.
The evidence based entries are cross-referenced and informed by up to date legislation.
Very detailed and useful contextual information are included and the reader is directed to other sources of information.
This dictionary is a must read for all social work students, practitioners and academics and should be included on all social work reading lists."Dr Frank Keating, Senior Lecturer In Health and Social Care, Royal Holloway University of London "I consider this to be an invaluable handbook of social work knowledge which is highly accessible, informative and concise.
Many will be surprised by the content which exceeds expectation as it goes much further than a standard dictionary, offering understanding and initial analysis of a range of difficult concepts.
This is a 'must have' reference text which social work students will carry with them throughout their degree studies.
An essential instrument for navigating through the vast range of subject matter confronting social work students.
One of few of its type, its features will ensure it remains a highly attractive acquisition."Martin Sheedy, Senior Lecturer, Centre for Social Work, Liverpool John Moores UniversityWith over 1500 entries, this popular dictionary provides concise and up to date explanations of the theories, approaches and terminology that define front-line social work and social care.
These entries explain, in jargon-free language, how key concepts can be used to improve practice.
Clear explanations outline significant developments such as Every Child Matters and the personalization of adult services.
Entries are helpfully cross referenced and are evidence based.
They reflect professional values and are written by specialists in the field, with a specific focus on the most recent legislation and policy guidance from government.This book is a key reference for students in further and higher education who are preparing for careers in social work, community care, residential care, child care, the probation service, counselling, and psychiatric nursing.
Free Home Delivery
on all orders
Pick up orders
from local bookshops