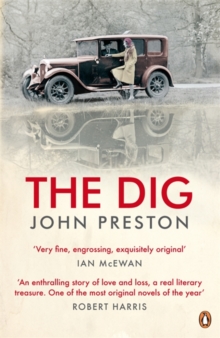 Description
In the long hot summer of 1939 Britain is preparing for war.
But on a riverside farm in Suffolk there is excitement of another kind: Mrs Petty, the widowed farmer, has had her hunch proved correct that the strange mounds on her land hold buried treasure.
As the dig proceeds against a background of mounting national anxiety, it becomes clear though that this is no ordinary find ... And pretty soon the discovery leads to all kinds of jealousies and tensions.
John Preston's recreation of the Sutton Hoo dig - the greatest Anglo-Saxon discovery ever in Britain - brilliantly and comically dramatizes three months of intense activity when locals fought outsiders, professionals thwarted amateurs, and love and rivaly flourished in equal measure
Information
Format: Paperback
Pages: 240 pages
Publisher: Penguin Books Ltd
Publication Date: 29/05/2008
ISBN: 9780141016382
Free Home Delivery
on all orders
Pick up orders
from local bookshops
Reviews
Showing 1 - 5 of 8 reviews.
Previous | Next
Review by dudara
16/06/2015
The Dig is a short novel set around the discovery and excavation at Sutton Hoo in 1939. England was facing the prospect of a war, and pressure was being exerted from officials to complete the excavation prior to the outbreak of hostilities. It is against this background that the characters move.We never spend too long with one character, moving quickly from one to another. We occasionally glean anecdotal pieces of information above a previous character as we are treated to the experiences of another. It's an easy novel to read, and makes a pleasant change to the recent trend to write tomes. However though, you may find the character development unsatisfactory or incomplete due to the short length of the novel. Personally I liked it, as it permitted me the opportunity to imagine the inbetween parts.It's a quite touching novel, as we are revealed the fustrations and loves of the characters. The author manages to accomplish this quite well over a short space.All in all, a refreshing change of pace.
Review by unevendays
16/06/2015
I absolutely loved this book. With a setting like the discovery of the Sutton Hoo ship burial and a leading cast of archaeologists, it was a pretty good guess but you never know.I empathised so much with the characters: it really hurt when Mr Brown lost control of the dig, I felt Peggy Piggot's frustration and Mrs Pretty's sorrow. The archaeology bound it together for me but without the characterisation it wouldn't have been much of a book whatever the setting.
Review by veronicay
16/06/2015
This got rave reviews when it was published a couple of years ago, from readers as diverse as Ian McEwan ( "engrossing, exquisitely original"), Robert Harris ("enthralling...original"), and Nigella Lawson, who was so absorbed she skipped lunch.I don't really understand all the hype. It was a pleasant enough (short) read; Preston writes beautifully, but at the end I did wonder what the point was. The novel is so understated as to be almost inaudible; all that is clear is that he's drawing parallels between the digging up of the frail remains of things and the excavation of his characters' repressed thoughts and feelings. It's rather reminiscent of On Chesil Beach in that sense, although McEwan was excruciatingly forensic in his description of the young couple on their wedding night. Here, small, isolated incidents are reported, but just as you feel something is going to happen, Preston moves on to something else. In the end you know as much about the characters as you would if you had dug up their material remains in 600 years -- which is of course part of the poin of the bookt. Footnote: I hadn't realised till I read the other reviews here that Peggy Pigott was Preston's Aunt, and it was this almost chance discovery that spurred him to visit Sutton Hoo and write the book. This too gives some insight into how much of our own and our family's past can be hidden from us.
Review by CatyM
16/06/2015
A nice enough piece of historical fiction about the excavations at Sutton Hoo in 1939, told from the first-person perspectives of the landowner and two of the archaeologists. There's lots of period atmosphere and masses of archaeological detail, and the characters are well-rounded and well-explored, but I couldn't help feeling that sort of petered out rather than ending properly. It's pleasant and understated, and perhaps the kind of book that might appeal to those who liked The Guernsey Literary and Potato Peel Pie Society.
Review by CarltonC
16/06/2015
A very well written, but very understated book. Although you can see the parallels that the author is drawing between the lives of the characters involved in the excavation of the Sutton Hoo archaeological dig and the dig itself, this adds very little to their characterisation and just makes you think that the author is being clever. But the novel does not engage the emotions because it is so understated and you do not feel involved with any of the characters for long enough.