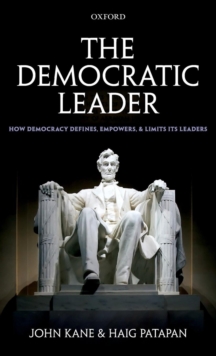 The Democratic Leader : How Democracy Defines, Empowers and Limits its Leaders
Hardback
Description
The Democratic Leader argues that leaders occupy a unique place in democracies.
The foundational principle of democracy - popular sovereignty - implies that the people must rule.
Yet the people can rule only by granting a trust of authority to individual leaders.
This produces a tension that results in a unique type of leadership, specifically, democratic leadership.
Democratic leaders, once they have the confidence and authority of the people, are verypowerful because they rule through consent and not through fear.
Yet in many respects they are the weakest of leaders, because democrats distrust leaders and impose on them a range of far-reaching constraints-legal, moral and political.
The democratic leader must perpetually navigate the powerful andcontending forces of public cynicism, founded in the suspicion that all leaders are self-interested power-seekers, and of public idealism, founded in a perennial hope that good leaders will act nobly by sacrificing themselves for the people.
The Democratic Leader suggests that the inherent difficulty of this form of leadership cannot be resolved, and indeed is necessary for securing the strength and stability of democracy.
Information
Format: Hardback
Pages: 218 pages
Publisher: Oxford University Press
Publication Date: 15/03/2012
Category: Political science & theory
ISBN: 9780199650477
Free Home Delivery
on all orders
Pick up orders
from local bookshops