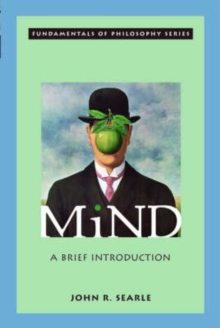 Mind : A Brief Introduction
Paperback
Description
"The philosophy of mind is unique among contemporary philosophical subjects," writes John Searle, "in that all of the most famous and influential theories are false." One of the world's most eminent thinkers, Searle dismantles these theories as he presents a vividly written, comprehensive introduction to the mind.
He begins with a look at the twelve problems of philosophy of mind-which he calls "Descartes and Other Disasters"-problems which he returns to throughout the volume, as he illuminates such topics as materialism, consciousness, the mind-body problem, intentionality, mental causation, free will, and the self.
The book offers a refreshingly direct and engaging introduction to one of the most intriguing areas of philosophy.
Information
Format: Paperback
Pages: 240 pages, 3 line illus.
Publisher: Oxford University Press Inc
Publication Date: 28/07/2005
Category: History of Western philosophy
ISBN: 9780195157345
Free Home Delivery
on all orders
Pick up orders
from local bookshops
Reviews
Showing 1 - 2 of 2 reviews.
Review by neurodrew
16/06/2015
The formal specification of the properties of conscious thought is a difficult subject, made more so by the dualism inherited from Descartes. How can a non-physical entity, as a mind is under dualism, effect physical change, and how does this mind ensure that the physical world exists? This book tries to explain these matters, with mind conceived of as a state of the physical brain. Searle believes that thought is not complietely determined by predictable physics, and thinks there are some quantum interactions that inject freedom into thought. This was difficult to understand, requiring re-reading in parts.
Review by Jewsbury
16/06/2015
In a well-written book Searle brings a glimmer of sanity to the fractious debate about the mind as he shows how the most popular positions (such as material monism and Cartesian dualism) are untenable. Reliable arguments require reliable terms. Searle discusses how all traditional arguments are doomed from the start because they can be shown to use unsuitable terms. Then Searle attempts to find some middle ground which is consistent with current scientific knowledge. He hypothesizes mentality must be causally reducible to biological processes but ontological irreducibility. In this way he discusses the generalities of consciousness, the structure of intentionality, free will, mental causation, the makeup of the unconscious, and the operation of perception and self. As with all the common positions, his suggestions rest on good deal of hope. Thus he is prepared to admit he does not have answers to more basic questions about the origins of free will and thinking. Indeed like others he poses his questions in a presumptive way eg how does a cosmos made only of matter and fields exhibit consciousness. I enjoyed reading the book. However, time will tell how tenable his position is.
Also in the Fundamentals of Philosophy Series series