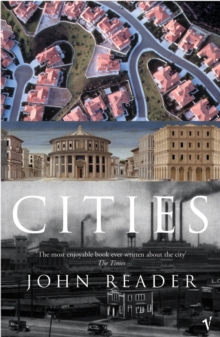 Description
Cities is a fascinating exploration of the nature of the city and city life, of its structures, development and inhabitants.
From the ruins of the earliest cities to the present, Reader explores how cities coalesce, develop and thrive, how they can decline and die, how they remake themselves.
He investigates their parasitic relationship with the countryside around them, the webs of trade and immigration they rely upon to survive, how they feed and water themselves and dispose of their wastes.
It is a sweeping exploration of what the city is and has been, fit to stand alongside Lewis Mumford's 1962 classic The City in History.
Information
Format: Paperback
Pages: 416 pages
Publisher: Vintage Publishing
Publication Date: 01/09/2005
Category: Urban communities
ISBN: 9780099284260
Free Home Delivery
on all orders
Pick up orders
from local bookshops
Reviews
Showing 1 - 2 of 2 reviews.
Review by daniel.links
16/06/2015
Not as good as "Africa" by the same author, but by approaching cities (undoubtedly the defining cultural innovation of the historical period) from a historical perspective (how were they formed?, where did they arise?, how have they changed over time?) it is a new way to look at how human society actually lives and works. Examples range from the cities of Sumer to 19th Century Berlin, 1960s Stockholm and 2000s developing cities. It shows how they worked and how they didn't and looks at issues ranging from the environmental problems of Sumer to the brutal affects of the Allied blockade on Germany in the First World War, to the problems and triumphs of social housing in Sweden. It also touches on the complexities of feeding and supplying cities (not just with food, but also with manpower; historically cities have only grown by immigration from rural areas and have enjoyed high death rates). Interestingly, to some extent in developed countries and certainly in developing countries, large quantities of a city's food is grown within its boundaries.As cities become ever more dominant on the globe (now housing almost a half of the human population) they clearly deserve a lot of our thought and attention. This book provides some pointers.
Review by ppendharkar
16/06/2015
Love the book. John Reader's book are a delight to read. Surprised that his books are not more popular.