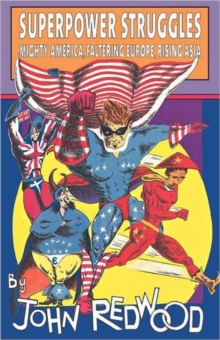 Superpower Struggles : Mighty America, Faltering Europe, Rising Asia
Paperback / softback
Description
Since the war in Iraq of 2003, relations between the USA and the EU have been strained and the UK has been increasingly regarded as the US Government's only dependable ally.
In this new book John Redwood examines the growing conflicts between an EU flexing its muscles against the USA, and the dominance of the US global economy and military machine.
He points to the phenomenal rise of China to say that whilst eyes are fixed on the EU superstate experiment the real events that will shape the world in the next 50 years are unfolding on the other side of the globe.
To maintain a position of influence in the world, he writes that the UK must renegotiate with the EU and keep open its links to Asia and the USA: the true battle for supremacy will not be between the EU and the USA but between Asia and the USA, and it is already underway.
Information
Format: Paperback / softback
Pages: 194 pages, XIV, 194 p.
Publisher: Palgrave USA
Publication Date: 22/03/2005
Category: Political ideologies
ISBN: 9781403990785