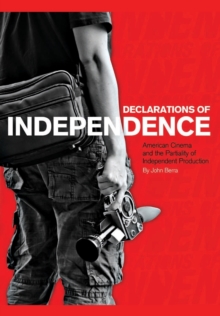 Declarations of Independence : American Cinema and the Partiality of Independent Production
Paperback / softback
Description
American independent cinema has gained mainstream popularity in recent years as audiences tire of the bloated, cliched spectacle of Hollywood films.
But how independent are these movies? As John Berra contends in "Declarations of Independence," the supposedly alternative film scene employs the same production techniques as its Hollywood counterparts and may find an uncritical audience in fans looking to attach personal sentiments and social reference points to art forms.
This provocative volume questions the autonomy of independent film, asking if it is possible for a unique filmic vision to thrive in an industry of mass production."
Information
Format: Paperback / softback
Pages: 224 pages
Publisher: Intellect Books
Publication Date: 15/03/2008
Category: Film: styles & genres
ISBN: 9781841501857