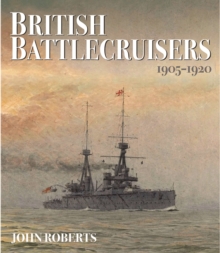 British Battlecruisers: 1905 - 1920
Hardback
Description
The brainchild of Admiral Sir John Fisher, battlecruisers combined heavy guns and high speed in the largest hulls of their era.
Conceived as 'super-cruisers' to hunt down and destroy commerce raiders, their size and gun-power led to their inclusion in the battlefleet as a fast squadron of capital ships.
This book traces in detail the development of Fisher's original idea into first battlecruiser Invincible of 1908, through to the 'Splendid Cats' of the Lion class, and culminating in HMS Hood in 1920, the largest warship in the world for the next twenty years.
The origins of the unusual 'light battlecruisers' of the Courageous type are also covered.
The well-publicised problems of British battlecruisers are examined, including the latest research throwing light on the catastrophic loss of three of the ships at the Battle of Jutland.
The developmental history is backed by chapters covering machinery, armament and armour, with a full listing of important technical data.
The comprehensive collection of illustrations includes the author's superb drawings and original Admiralty plans reproduced in full colour.This revised and updated edition of the classic work first published in 1997 will be welcomed by anyone with an interest in the most charismatic and controversial warships of the dreadnought era.
Information
Format: Hardback
Pages: 128 pages, 100 b/w photos and line drawings, 10 colour plans, 1 8pp gatefold
Publisher: Pen & Sword Books Ltd
Publication Date: 04/10/2016
Category: British & Irish history
ISBN: 9781473882355