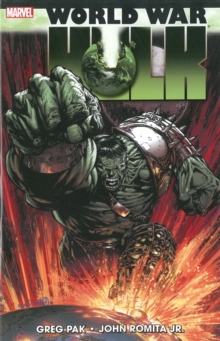 Hulk: Wwh - World War Hulk
Paperback
Information
Format: Paperback
Pages: 224 pages, 1 Illustrations, unspecified
Publisher: Marvel Comics
Publication Date: 21/05/2008
Category: Superheroes
ISBN: 9780785125969
Free Home Delivery
on all orders
Pick up orders
from local bookshops
Reviews
Showing 1 - 2 of 2 reviews.
Review by bigorangemichael
16/06/2015
So, a quartet of heroes banished the Hulk to a planet where he started out as a slave and worked his way up to ruler. Eventually, he found love and got married only to have the space ship blow up, wiping out his new-found people and his wife. Needless to say, the Hulk's pretty annoyed about all of this and returns to Earth to kick some super-hero posterior and take some names. And that's where World War Hulk begins. And then you spend the next hundred or so pages with the Hulk battling various Marvel superheroes and other foes as he gets madder and madder, which only makes him stronger. It's kind of fun, but not being a huge Hulk fan, a lot of the broader implications of things and developments were lost on me. But having heard some good buzz on this one and seeing it marketed as an "event" in the Marvel Universe, I was curious enough to pick up the trade paperback collection of the mini-series and give it a try
Review by jshillingford
16/06/2015
I'm not sure what compelled me to buy this since the reviews all pretty much sum it up as: Hulk beats up every hero until someone calms him down. They weren't wrong. I guess I was hoping there'd be something in here, some mea culpa from the four men responsible for shipping him off into space. And while there was a reckoning of sorts, there were too many incongruities for the story to work. The book is mainly just a sequence of battles until the Sentry swoops in and the two battle until both of them, inexplicably, calm down. I might have enjoyed this more as a Hulk story if it hadn't had so much inconsistency. Hulk arrives to take revenge on those that shot him into space - to a planet where he got married and was about to become a father. The Hulk. Giant green rage monster. How the hell did he marry and father a child when, if he's not angry, he should be Banner? Plus, he's pretty articulate and clear-minded for supposedly being "angrier than he's ever been" when he does come to Earth. This doesn't match with what I know of the Hulk, and how the heroes talk about him in this very collection. How dangerous can he be to Earth if he's capable of settling down to marriage? I don't follow the Hulk series, which is probably why this didn't work for me.Overall, I would only recommend this to fans of the Hulk who read his various series.