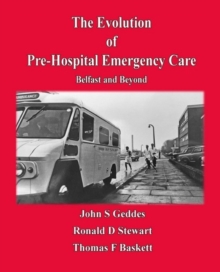 Evolution of Pre-Hospital Emergency Care : Belfast & Beyond
Paperback / softback
Description
This volume covers the early development of mobile coronary care within the context of major societal and scientific changes, leading to pre-hospital emergency intensive care, cardiopulmonary resuscitation (CPR) and defibrillation.
The success of the Belfast Cardiac Ambulance stimulated the development of broader pre-hospital emergency services and the concomitant growth of related expertise and paramedical personnel.
This book celebrates the origins and early development of out-of-hospital resuscitative care.
There is much to celebrate: Resuscitation, particularly from ventricular fibrillation, is commonplace.
The science of resuscitation is well defined. Effective training programmes for basic and advanced skills are in place.
Public training in CPR and use of automated external defibrillators (AEDs) are widespread.
Information
Format: Paperback / softback
Pages: 208 pages
Publisher: Clinical Press Ltd
Publication Date: 01/09/2017
Category: History of medicine
ISBN: 9781854570932