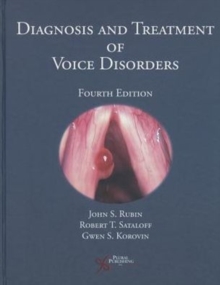 Diagnosis and Treatment of Voice Disorders
Hardback
Description
Diagnosis and Treatment of Voice Disorders, now in its fourth edition, continues to serve as a definitive reference for students and professionals in the fields of otolaryngology, speech-language pathology, voice and singing, and related sciences.
Fifty-eight chaptersA-- - illustrated with color photos, dyed slides, and black and white figures - are divided into three parts: basic sciences, clinical assessment, and management.
Each chapter has been updated with the most current and relevant information on the science of communication processes and voice disorders.
With contributions from more than 60 internationally acknowledged experts, this text provides comprehensive, multidisciplinary coverage of the basic science and characteristics of voice disorders; diagnostic procedures and techniques; assessment protocols; as well as surgical and nonsurgical treatment models.This fourth edition has been extensively updated and expanded with ten new chapters: --Vocal Fold Extracelluar Matrix and Wound Healing --COUGH and the Unified Airway --The Role of the Voice Coach in the Treatment of Vocal Disorders --Occupational Voice --Anesthesia in Laryngology --Reinnervation: New Frontiers --Emerging Approaches to Laryngeal Replacement and Reconstruction --Recurrent Respiratory Papillomatosis --Office-Based Phonosurgery --Telemedicine
Information
Format: Hardback
Pages: 1040 pages, 4 colour illustrations
Publisher: Plural Publishing Inc
Publication Date: 01/03/2014
Category: Otorhinolaryngology (ENT)
ISBN: 9781597565530