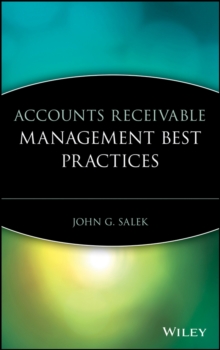 Accounts Receivable Management Best Practices
Hardback
Description
Praise for "Accounts Receivable Management: Best Practices": 'An excellent reference tool on how to manage the accounts receivable process for any company.
The use of real-life examples makes the concepts easy to understand.
I recommend the book to anyone who wants to improve cash flow and reduce bad debt loss' - Michael E.
Beaulieu, Senior Vice President, Finance Cardinal Health. 'Rather than simply explaining how to get the greatest return from an investment in accounts receivable, John G.
Salek reveals how companies shoot themselves in the foot when management sets policies and procedures without consideration of the impact on cash flow. "Accounts Receivable Management: Best Practices" isn't just for credit and collection professionals who often spend more time cleaning up process errors and other corporate 'garbage', instead of managing risk.
It should be required reading for C-level executives, the sales staff, operations managers, and anybody else whose job impacts the order-to-cash cycle' - David Schmidt, Principal, A2 Resources, Coauthor of "Power Collecting: Automation for Effective Asset Management". 'Enhancing a company's competitive profile is all about giving enough customers the right product, at the right price, at the right time.
This author's real-world approach to accomplishing this goal through the prism of receivables management makes this book a must-read for those companies looking to make their mark as an organization that cares about its customers as well as their own need to produce financial results' - Bruce C.
Lynn, Managing Director, The Financial Executives Consulting Group, LLC. 'I have worked with John Salek since 1992, both as his client and as a project manager working with his organization.
His knowledge of receivables management...the technology, the processes, and the formula for success...are unsurpassed in the field' - Stephen L.
Watts, Manager, Global Receivables (retired) General Electric Medical Systems. 'Mr. Salek has written a masterpiece on the intricacies and management of the accounts receivable portfolio.
I would recommend this book to CFOs, controllers, treasurers, credit managers, and small business owners' - Steve Kozack, Credit Manager Lennox, Hearth Products. 'Written by an author who has been in the trenches and cites actual examples. This is not written in theory, but from practice' - Milt Dardis, Collection Consultant, Dardis & Associates.
Information
Format: Hardback
Pages: 224 pages
Publisher: John Wiley & Sons Inc
Publication Date: 14/07/2005
Category: Finance & accounting
ISBN: 9780471716549
Free Home Delivery
on all orders
Pick up orders
from local bookshops