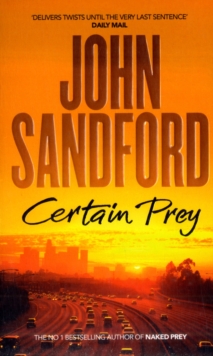 Description
Attorney Carmel Loan is beautiful, intelligent, ambitious - and used to getting what she wants.
When she becomes infatuated with fellow barrister Hale Allen, she isn't going to let a little thing like his being married get in the way.
So, through the contacts of an ex-client, she hired professional killer Clara Rinker to get rid of Allen's wife.
Smart, attractive Rinker is the best hitwoman in the business - but things go wrong, and the shooting of a witness, a cop, brings DI Lucas Davenport into the case.
Carmel Loan and Clara Rinker team up to clean up the loose ends - which includes getting Davenport off their backs by whatever means necessary.
Information
Format: Paperback
Pages: 448 pages
Publisher: Simon & Schuster
Publication Date: 21/02/2004
Category: Crime & mystery
ISBN: 9780743484190
Free Home Delivery
on all orders
Pick up orders
from local bookshops
Reviews
Showing 1 - 1 of 1 reviews.
Review by ecw0647
16/06/2015
I grabbed this particular book off the leasing shelf on a whim, began it in the station waiting for the train and could not put it down. Apparently, Sandford writes a series of novels that would be difficult to classify as either mysteries or thrillers. They all have the word "prey" in the title, and Lucas Davenport as protagonist. In this latest work, Davenport is a deputy chief of the Minneapolis Police Department. <br/><br/>Clara Rinker is a hitwoman. Raped after working one evening as a stripper at a nudie bar, she arranges with her bosses to have the man who raped her brought back to the bar so she can his hands. Deciding that wasn't enough, she kills him, and the bar owners, impressed by her passion and lack of remorse, enlist her as a part-time hitperson for the St. Louis mob. She's also very smart, but lonely, a fact that leads to some difficulties when she is hired by Carmel Loan, a successful lawyer in Minneapolis, to kill the wife of the man Carmel has the lust for. The killing succeeds but everything gets really complicated when she also has to shoot a policeman surreptitiously on his way for a hamburger. The cop is not killed and the complication arises that he might be able to identify her. Then Carmel learns that the love of her life has been having an affair with a secretary, and to make things worse, the drug dealer she hired to put her in contact with the hitman — notice how I've cleverly used all the appropriate endings to satisfy everyone – has sent a blackmail note revealing he kept a videotape of their conversation that recorded Loan requesting the hit. The denouement is quite satisfying. Lucas is an interesting character, albeit not as well developed perhaps as one would like, perhaps because he has been explained more in previous novels. He makes some very funny comments about a six-hundred-page report he has to read entitled "The Mayor's Select Commission on Cultural Diversity, Alternative Lifestyles, and Other Ableness in the Minneapolis Police Department: A Preliminary Approach to Divergent Modalities" [Executive Summary] — otherwise known as the Perfection Report, or The Wellness Thing, or the Wholeness Report or the Otherness Report. It's a very thick report that literally saves Lucas's bacon — well, maybe not his bacon.