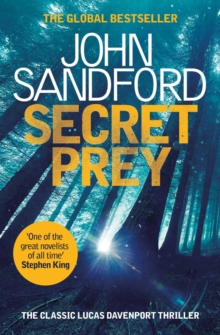 Secret Prey
Paperback / softback
Description
Five men go hunting. Only four come back alive. It's up to Lucas Davenport to untangle the secrets that bind these men together and uncover his prey... The company chairman lay on the cold ground of the woods, his eyes unseeing, his orange hunting jacket punctured by a rifle bullet at close range.
Around him stood the four executives with whom he had been hunting, each with his or her own complicated agenda, each with a reason not to be sorrowful about the man's death.
If he read it in a book, Lucas Davenport thought, it would seem like one of those classic murder mysteries, the kind where the detective gathers everyone together at the end and solves the case with a little speech.
But it wasn't going to be that easy, he knew. There were currents running through this group, hints and whispers of something much greater than the murder of a single man.
He had felt this way not long before, sensed the curling of an indefinable evil, and not only had it nearly gotten him killed, it had lost him the woman he loves.
Sometime soon, unless he could stop it, there would be another death, and then still another, and Davenport couldn't help but wonder if maybe this time, the final death might not be his own. . . . John Sandford has written extraordinary thrillers before, but nothing to top the startling twists and unrelenting suspense of Secret Prey. *** Praise for SECRET PREY*** 'Don't start if you don't plan to finish it in one sitting' Richmond Times-Dispatch 'By far the best Prey' The Associated Press 'Excellent... compelling... everything works. Secret Prey enthralls' USA Today 'Full of smart suspense and deduction as well as explosive action... the villain is a masterful creation' Publishers Weekly 'This killer is a brilliant piece of work-intelligent, clever, bold, and sneaky... vivid and satisfying' The Denver Post 'Sandford has sustained his "Prey" thrillers by varying the premise with imaginative plotting; shifting points of view; a subtle, melancholy protagonist; and most of all, great villains.
The ninth Prey novel may well be the best, and that's high praise in the context of such a consistently entertaining body of work' Booklist 'Why was chairman Daniel S.
Kresge shot? Because he has just bamboozled his wife into accepting an $8 million divorce settlement and is merging his 230 banks with a larger, a move that will net him $40 million after taxes?
Yes, he'll lose his job, as will nearly all the execs on the deer hunt, but that's life.
As is revenge... Events from earlier Prey novels weave intriguingly through this one, inviting the reader to plunge into the entire series.
Not a bad idea' Kirkus
Information
Format: Paperback / softback
Pages: 464 pages
Publisher: Simon & Schuster Ltd
Publication Date: 29/11/2018
Category: Crime & mystery
ISBN: 9781471179051
Free Home Delivery
on all orders
Pick up orders
from local bookshops