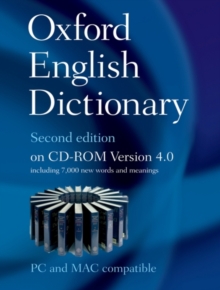 The Oxford English Dictionary Second Edition on CD-ROM Version 4.0 : Windows/Mac Individual User Version
CD-ROM
Description
The Oxford English Dictionary is the internationally recognized authority on the English Language, defining more than 500,000 words and tracing their usage through 2.5 million quotations from a wide range of literary and other sources.
The text on the CD-ROM comprises the full text of the OED 2nd Edition, plus the three Additions volumes, as well as 7,000 new entries from the OED's continuing research. Most importantly, OED v4.0 on CD-ROM boasts superb search-and-retrieval software, designed specifically for the electronic version, enabling you to investigate the Dictionary in ways not possible with the print edition.
Questions which might have taken years of patient research can now be answered in seconds. Existing functionality retained from earlier versions includes: BL Installation to the hard drive, so the CD is not required during use of the Dictionary; BL Options to customize the entry display and show or hide pronunciations, spellings, etymology, and quotation text; BL Flexible full text search options, with search filters and an option to rank entries and search results alphabetically or by date. New to this version: BL Now available to Mac users; BL Flash-base; BL Smoother and faster performance providing instantaneous search results; BL New word-wheel which supports incremental letter-by-letter browsing; BL 7,000 new words and meanings; Windows upgrades available to registered users of Versions 2.0 upwards.
For further details, contact: UK/Rest of World Customer Service, telephone: +44 (0)1865 353534 or email: ep.info@oup.com; United States only Customer Service, telephone: 1-800-445-9714, fax: 1-919-677-1303 or email: custserv.us@oup.com System Requirements Windows: Intel(R) Pentium(R) 4 1.6GHz processor or equivalent (2GHz recommended); Microsoft(R) Windows(R) Vista, Windows XP, Windows Server(R) 2003, Windows 2000.
Macintosh: Power PC(R) G4 867MHz or faster processor; Intel CoreTM Duo 2.13GHz or faster processor; Mac OS X v.10.4x or 10.5x.
All platforms: 512MB of RAM; 1Gb free hard disk space; minimum monitor capability: 1024 x 768 pixels and high colour (16 bits per pixel, ie 65,536 colours); local CD-ROM/DVD drive (for installation); runs from hard drive only.
Information
Format: CD-ROM
Pages: 12 pages
Publisher: Oxford University Press
Publication Date: 21/05/2009
Category: Dictionaries
ISBN: 9780199563838
Free Home Delivery
on all orders
Pick up orders
from local bookshops