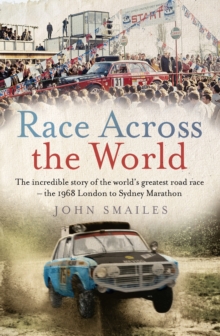 Race Across the World : The incredible story of the world's greatest road race - the 1968 London to Sydney Marathon
Paperback / softback
Description
In 1968, ninety-eight competitors stormed out of London on the world's greatest automotive adventure, the London to Sydney Marathon, the most ambitious and epic car race ever staged.
Four weeks later they arrived in Sydney-or at least half of them did.
The others lay in ruin along its 10,000-mile route. Unimaginable now in either concept or execution, the marathon captured the rapt attention of the countries through which it passed, and of the world, as it created front-page news.
It was more than a car race, more than a rally, more than the trials that opened up outback Australia only a decade before: it was the world's most gruelling test of driver and vehicle. For Australians, the race became a focal point of the rivalry between local car-manufacturing
Information
Format: Paperback / softback
Pages: 360 pages
Publisher: Allen & Unwin
Publication Date: 24/10/2018
Category: Car racing
ISBN: 9781760632533